Update: This contest is now closed. So tough. Congratulations to Joseph Marsh for winning this fantastic pennant!
——————-
Earlier today, we published a chat I had with Eric Mortensen, and in that interview, we talked a bit about his new project, The People's Pennant. They're producing stunning pennants from some of the best designers out there, and Eric was nice enough to donate one to One Minute With. Now, we're offering you the chance to win this fantastic prize, with a simple tweet!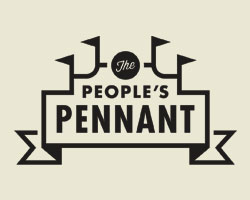 About The People's Pennant:
The People's Pennant create awesome limited edition pennants, from amazing designers, with a new pennant released every single month. There are only 250 of each pennant produced, so with each purchase, you get a unique piece of design culture and join the People's Pennant elite.
But hey, what do I know about pennants? Here's Eric and the gang to explain what they're all about:
Rally around the small things in life! Driving with the windows down. Lazy Sundays. A freshly sharpened pencil. Whatever it is that makes you happy, we want to celebrate it. So we bring you: The People's Pennant. We elevate the pennant from the confines of sports to the awesomeness of the everyday. Our pennants are hand-printed and hand-sewn in the U.S.A. Crafted by folks who've helped shape the tradition since the early 1900s, they have produced felt products with care for home-town victories to world championships. Collect all of the pennants, and show some team spirit for the small things in life.
What You'll Win:
Today, we have this beautiful pennant, designed by Ken Barber, up for grabs. If the idea of coffee isn't enough to set your heart racing, the sweet, sweet lettering by House Industries' in-house typography aficionado definitely will be.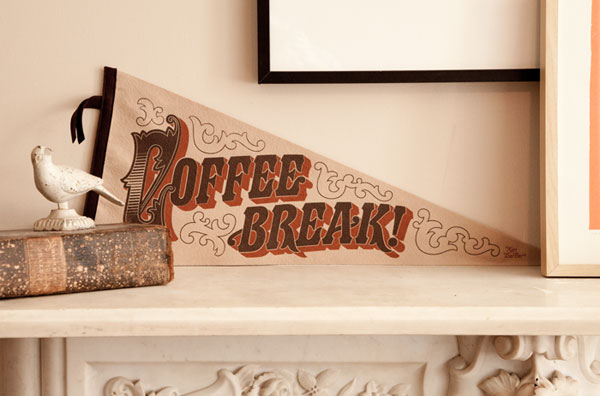 Here's what Ken had to say about his inspiration for the piece:
I'm a coffee connoisseur's worst nightmare. No Ethiopian Kemgin beans, private cuppings or pour-over Tonx for me; I prefer the nasty convenience store variety. Twenty-four ounces of burnt decaf with a few generous shots of hazelnut creamer and a handful of artificial sweetener packets is perfect when I need a late afternoon fix. But no matter how you take your coffee, enthusiasts of all types can appreciate this clarion call for caffeine.
This design is priced at a very reasonable $35, but we're giving you the chance to get it for the ultimate price of free!
How to Enter:
It really couldn't be easier to enter. All you have to do is follow these three steps:
Follow @PeoplesPennant on Twitter.
Follow @ConorDesign On Twitter.
Tweet from your account with a link to this page. Try to say something nice about either OMW or The People's Pennant too. It won't help you win, but it'll make us feel all happy inside.
To make it even easier, you can tweet directly from this page:
We'll collect up all the tweets on March 26th and randomly select a winner. The winner will be announced in this post, and on Twitter, on the 27th.
A Few Rules:
We hate rules as much as the next guy, but there a few bits and pieces we need to make clear:
This competition is open to people from anywhere in the world. We'll even throw in the postage for free.
You can tweet as many times as you want, but you'll only get one entry per person. Gotta keep this thing fair.
This contest ends at 23:59 (Ireland time) on March 26th, 2012. Any entries made after then will be chucked in the bin. But we'll still love you.
We'll be contacting you via Twitter if you win. If you don't respond within 48 hours, we'll give it to somebody else. So just check your Twitter.
If you aren't following both @PeoplesPennant and @ConorDesign, you won't be entered into the draw. This isn't because we want more followers, it's because we'll have to DM you. Also, we want more followers.
Good luck, everyone!