One

Year

With…


Claire Coullon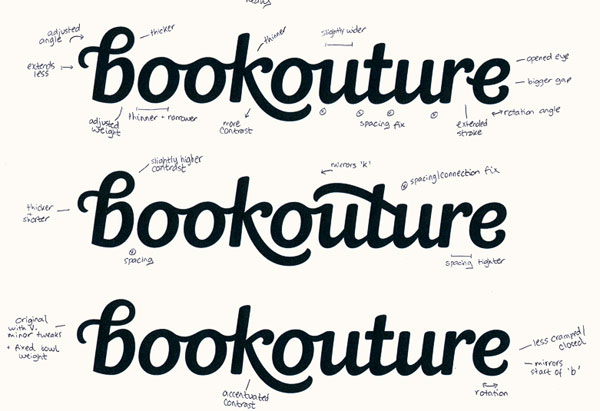 A year ago today, I posted an interview with the fantastic designer and letterer, Claire Coullon. Now, one year on, she's back, to tell us about her year, her dreams, and, well, 80s fashion. As you do.
Hi Claire, thanks so much for talking to me a second time. For those unfamiliar, can you give a brief recap of who you are, and the sorta stuff you're doing?
Hi Conor, thanks for having me back! I'm an independent graphic designer and typographer co-running a small design studio called Op45. I'm originally from France and currently live in Prague, Czech Republic. Recently I've mainly been working on logo design, lettering and branding but I also love print design in general, especially book/layout work.
So, what have you been up to this past year? What are your favourite projects you've worked on in the last 12 months?
Client work has focused primarily on logotypes and some more comprehensive branding projects, as well as other things like typeface posters and various printed materials. I think my favourite project though might be my own portfolio website, purely because it took so much time, abandoned ideas and tedious decision making, but it was so satisfying once it was online (however long it lasts until the next version).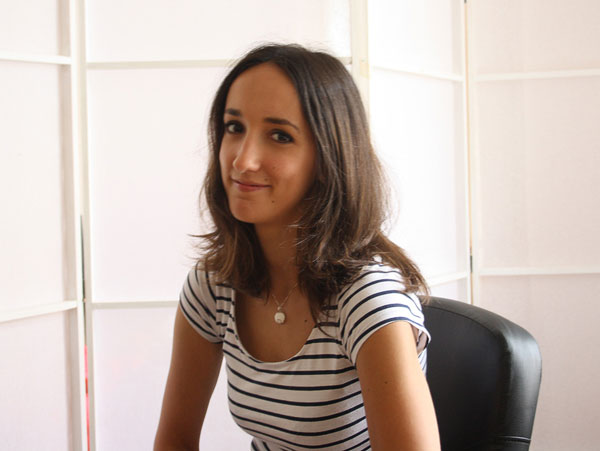 Do you think you've grown as a designer this year? If so, how?
Things change and grow all the time, but I feel like it's been particularly notable this past year. My workload has changed quite drastically which has definitely made me refine and improve both my approach and design process. Of course, the more work you do, the more practice you get anyway and growth emerges naturally as a result. It's not just the execution itself that evolves (although thankfully that's an important part), but it's also the way you conceptualise and think about things that is constantly changing.
Has your workspace changed much? Discovered any new tools that help you make awesome work (not that you need the help!)?
Our studio setup has changed about three times in the past year; it makes for a refreshing change and almost feels like you've moved somewhere new. Although I make a mess while working, I get easily put off starting if there's no clean space to begin with, so maximising desk area every time is important. In terms of tools, things haven't changed too much except that I'm finally no longer using a 7 year old laptop as my main computer. I rarely feel the need to upgrade things if they still work fine, but obviously it's useful if you can actually run more than one program at once. For drawing, even though I still mostly use regular pencils, having a more diverse set of pens as a starting point has been good for variety. Pilot Lettering pens (the ones with the widest nib) are rapidly becoming one of my favourites, along with the Rotring ArtPen.
Whether it's about 80s hairstyles, the work of Darren Aronofsky, or the wonder of Emma Watson, you seem to spend a lot of time connecting with other designers online. How beneficial do you feel networking like this is, in a community as tight-knit as ours?
As weird as this question makes me sound, getting to know other designers online has definitely been beneficial (not to mention entertaining). Getting an outside perspective on what you're working on is so useful as it helps you consider and (over) analyse every decision. Suggestions and feedback have been particularly helpful in many of my projects over this past year, either for relatively small but important details (like for the PixelCamp logotype) or general suggestions for further exploration (as with the Bookouture project). Of course, this depends a lot on the individual project and how much context you're able to provide. That said, I can't quite work out how discussing lettering leads to terrible 80s fashion, but there you go.
Let's get a little bit reflective here: If you could change one thing about your career to date, what would it be?
It's quite a small thing, but if I could change something work-related in the past it would be to have spent much more time in the letterpress and screen printing studios at university and less time worrying about lack of experience tackling 'real world' briefs. I didn't quite appreciate how amazing it was to have such easy access to workshops and I definitely regret it now. Otherwise in terms of current career, I'd love to have the chance to work on self-initiated projects more as they've been really lacking in the last year or so, but I can't seem to manage to specifically set time for them.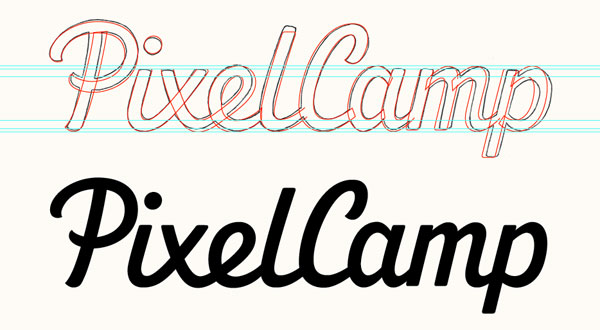 I ask this to everyone I interview, but unfortunately you came a bit too early to the game, so I'll use this opportunity to ask it: If, in some Freaky Friday-like situation, you could live the life of another designer, illustrator or creative, for a day, who would it be, and why?
I was quite happy to have missed this question the first time around because I have no idea. Maybe Herbert Spencer at some point in the 1960s, to see what it was like to work on the Typographica design journals. It was such a brilliant, innovative publication that was also beautifully made and it would be fantastic to know what it was like to have created it.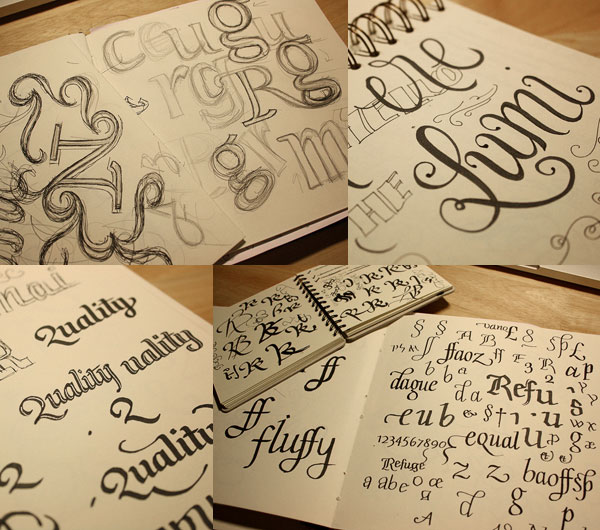 So we've looked back at the last year, but let's look forward: Where do you see yourself, in, say, 4 or 5 years? Do you still hope to be making amazing type and running Op45, or do you want to have moved on to something bigger (or perhaps smaller)?
I'm not really one for planning ahead (no idea where we'd even be living in a year), but I imagine I'll always keep focusing on typographic work, whether it's with regards to hand lettering, branding, book design or something completely different. I do plan to do more explorative work in different styles, as this year has been very script focused. As Seb Lester touched on in his interview, client commissions are very often based on your previous work so it can be hard to break away from that (another reason to find time for those side projects). I do also see myself still trying to draw the lowercase alphabet for my first typeface by then…
Thanks Claire!
Many thanks to Claire for taking even more time to talk to One Minute With. I really enjoyed interviewing her for the second time, and hopefully you enjoyed reading it!
Why not check out Claire's site, and follow her on Dribbble and Twitter?