One

Minute

With…


Tom Lane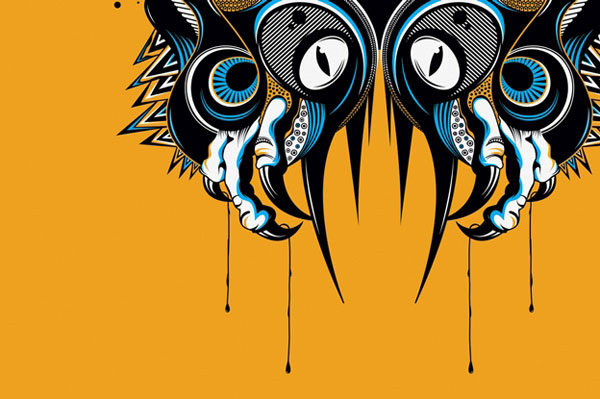 Hi Tom, thanks for taking time to chat with One Minute With. Tell us a little bit about yourself and your work.
Well, I'm a designer, illustrator, and letterer based in Bristol, the UK. I studied here and haven't left. I met my wife and have some life-long friends around me and I'm happy. I've been independent for 8 years now, I set up Ginger Monkey straight after graduating from University. I get to do pretty fun projects due to being pretty strict about how and what I was creating in the early days and that has meant I've developed a portfolio that leads to more of the work I really love to do.
Walk us through a typical day in the life of Tom Lane.
I get up, make an espresso for me and the wife and get ready for the gym. I hit the pool or the weights and try and relax into the day whilst also getting my body and mind moving and in shape. Then I wonder down to my studio and do all the necessary emails and admin that comes with the job and hopefully get that out the way by 10ish. Then it's usually hitting the drawing table to work on the project I've scheduled that day or part of it at least. It's usually head down until lunch. I try and take a wonder to get some air and let some thoughts settle in and then back to the studio for more of the same. Music, audiobooks, social media distractions all thrown into the pot as well. I do limit distractions as much as possible though as it's really important to have focus. Emails, phone calls etc. are done at specific times of the day to maximise productivity. I knock it on the head around 6. I wander or bike home to cook and eat with the wife then it's either time with some friends, chilling with the wife, or, if I've messed up my schedule, working my ass off to meet a deadline. The latter not being ideal! Book or movie before bed.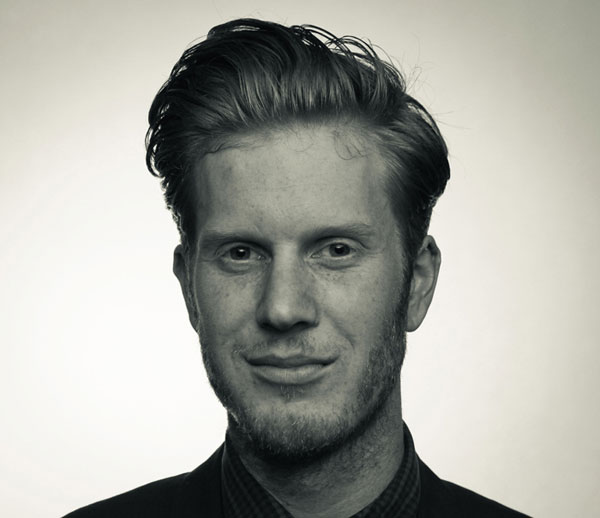 How did you get into design? Was there a defining point in your career, and if so, how did it shape you as a designer?
I left school without having really done much and didn't go back to do A levels or really know what I was going to do. I was told by my folks to get a job, just take my time and have a think about what I wanted to do. I'm pretty lucky to have understanding parents. I worked in a supermarket for a couple of years and one of my buddies was studying at art college. He showed me some stuff, I thought it was cool and after a massive bust up with a manager I had to come up with something else to do or I could see I was going to get stuck. The seed had been planted and I headed up to the local art college and I managed to get on the graphic design course. No qualifications, no art background, I just pleaded and they took a chance on me. How I got into this career is really the most defining factor on my career. I wanted to do something different with my life and I saw this as an opportunity to do that, someone took a chance on me and I owed it to them and myself to do the best with it.
How do you approach a new project? What's your creative process like?
First and foremost it's understanding the job, the client, and the expectations. Get that nailed down as best as possible and you'll be able to get the rest done with hopefully less trouble. Throughout the process it's also about building trust. You can't do your best work if your client doesn't trust you. But you have to cultivate it though through your communication and actions in the initial part of the process so when you get to making things the client trusts your decision making over theirs.
Projects always turn out better if I have time to play. That usually means lying on the sofa in the studio or at home with my sketchbook not trying to nail the brief but just pissing about with ideas and elements. Once I feel I've weeded out bad ideas, different alignments, compositions etc. I move onto my tidier, bigger sketchbook. Here I work more polished on maybe one or two routes born from my playing phase. I work and rework this rough. Once I'm happy with it I'll make a final clean and crisp version to send over to the client with my thoughts and reasoning.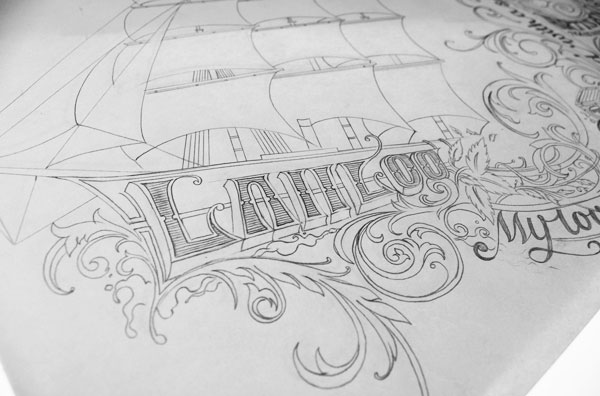 You, like many designers and illustrators, run a store, in which you sell various delightful prints. In an industry where work can fluctuate so greatly, how important is a passive income source, do you feel?
I've just launched a new business that I hope takes that to a new level. 1hundred is a store based around producing quality goods and going that little bit extra to make something really worth having. Also, only 100 of the products are ever made so folks are treated to limited editions.
I think it's important that we simply keep pushing forward smartly and do what we can to give ourselves the best opportunities in the future. 1hundred exists for many reasons, one is yes, hopefully having a good second income from another source. Being self-employed means there isn't much conventional financial security out there but I feel secure in the fact I'm in control of making things happen. I'm not really relying on anyone else. If you're a designer, illustrator or a producer of anything that other people may want to own or share you should probably think to make the most of that and see what comes of it
You're best known for your incredible type-infused illustrations – Where do you get inspiration for your work?
There isn't really a specific answer, but I have a tendency to look pretty far back to the Victorian era, ancient cultures, Gaslight. I tend to just keep my eyes open and pick up little bits and piece on my day to day. Some stuff gets stuck in my memory and when I'm playing comes out and I run with it in my own way. Often I'm asked to represent certain time periods or themes so I have to research the visual material of that time to build the right look and feel to the artwork I produce.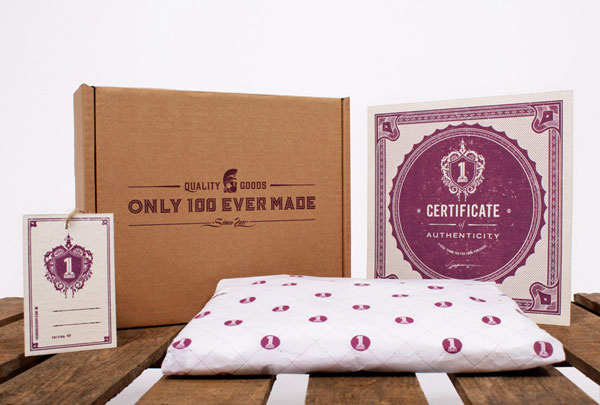 If, in some Freaky Friday-like situation, you could live the life of another designer, illustrator or creative, for a day, who would it be, and why?
Oh god, good question, I don't know. It would be great to see what Da Vinci's set-up was like I guess. Nah, I know, Don Draper. I know he's not real but if I could be him for the day, that would rock.
What design tools could you not live without?
Clutch pencil, a good A3 pad, my lightbox for speeding up the last version of my art, a Wacom tablet for vectorising, Illustrator, Photoshop, MacBook Pro, camera, external hard drive, scanner, Dropbox. Done.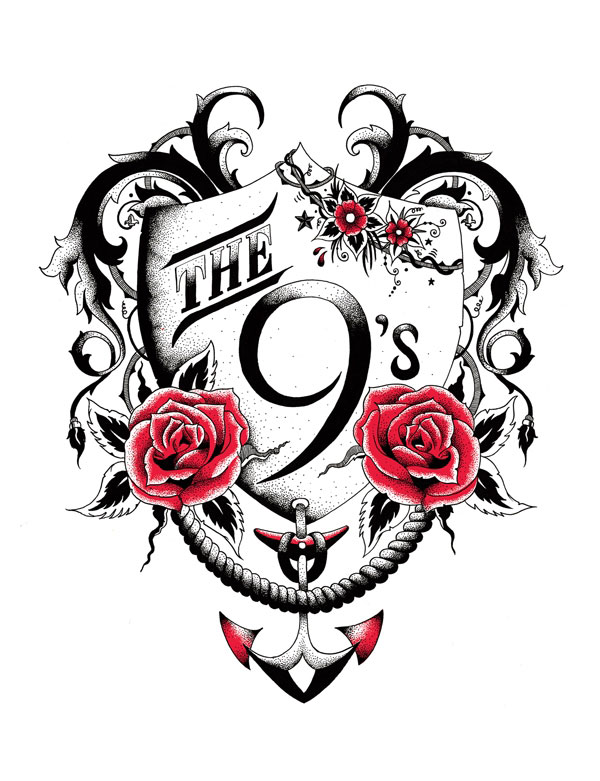 And finally, what tips would you give to anybody who is looking to get started in design or illustration?
Be yourself, listen, learn as much as you can off you own back, get the hell on with it, don't waste time worrying how everyone else is doing it or that people are doing it better than you. Style comes later and is formed by your tastes but you have to do a lot of stuff to know what your tastes are. Practice, then practice, and then practice so more. If you spend most of your time in awe of other peoples work and chatting on social media, you probably aren't practicing enough. Do some more.
Thanks Tom!
Many thanks to Tom for talking to us. I really enjoyed his answers, and hopefully you did too!