One

Minute

With…


Mikey Burton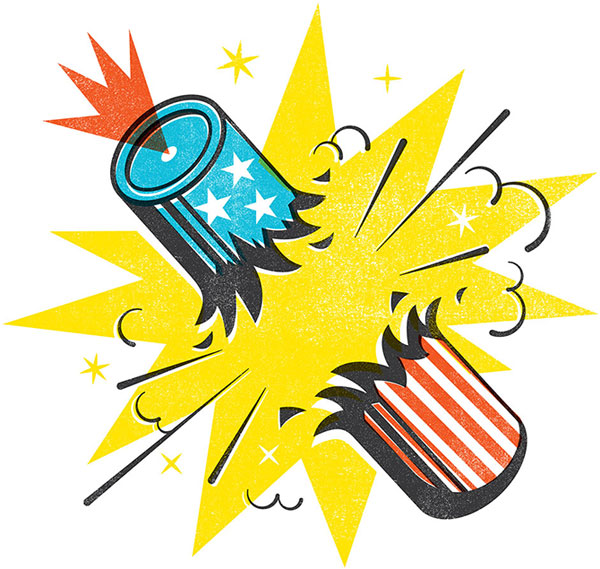 Hi Mikey, thanks for taking time to chat with One Minute With. Tell us a little bit about yourself and your work.
Yeah, I'm Mikey Burton, I'm a designer and illustrator based in Philadelphia, Pennsylvania. I spend my days doing a lot of illustrations, infographics and small identity projects. I really like bears. The animal. The lovable, cuddly, yet ferocious animal.
Walk us through a typical day in the life of Mikey Burton.
I work out of the house at the moment, so it's a pretty strict program. [Chuckles to himself] It's very easy to get distracted if you're at home alone – If you break out of that you can very easy end up, y'know, doing the laundry during the day!
So yeah, I get up, gotta have my coffee, gotta put my shoes on and make myself feel like I'm actually at a job. Usually the morning is when I do the most of my thinking – It's when my brain's the most fertile and when I'll come up with the best ideas, so that's usually used for concepting, or if I have to sketch for a job, that's when I do it.
Midday: Design, illustration, and that goes on until I fall asleep. Lately I've just been working like crazy.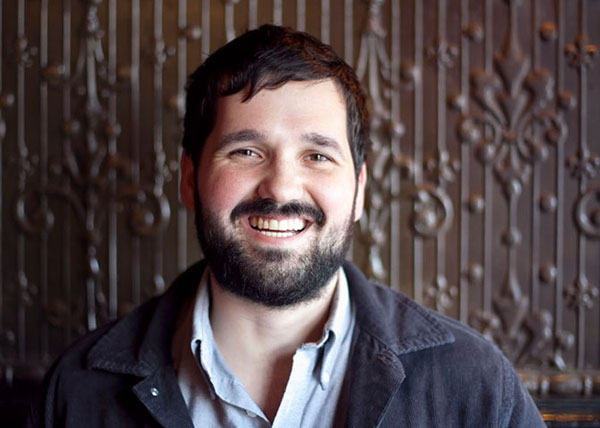 How did you get into design?
As a little kid, I was always drawing, and my mom was always buying me crayons and pencils. After highschool, I was like, "What do I do? I want to do something creative, but I don't wanna be a starving artist." So I decided to go into the noble art of graphic design, not really knowing what that was at the time – I just thought I'd probably be making CD packaging, which is really funny to think now, as it's such an outdated thing!
So I went to school, and learned a lot of hand skills, not anything computer-based. This isn't even that long ago, and yet it sounds ridiculous talking about it… I remember buying like $1,500 worth of drafting supplies in college – not even a computer – just so you can sit down with a T-square, an X-Acto knife and rapidograph pens and make stuff by hand like that, with high precision quality. So that was a very big shock to me, and I wasn't very good at it – I did really bad the first semester, but at some point I got better, and realized that it was just this weeding-out thing that they did at school. But it went on, and I was actually invited to the Master's program at my school, where they had a combined degree in which you got your Master's and Bachelor's all at once.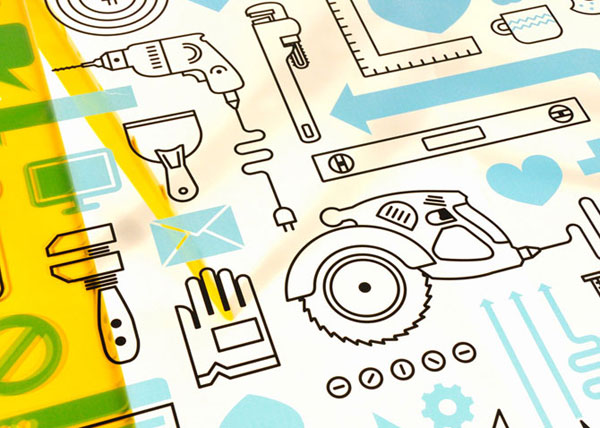 I found myself being there for 6 years, at the same place. If you're at the same school for that long, you kinda have all the same professors. That's great, it's very intimate, and you're very good friends with them, but you can only learn so much by being with the same professors, so me and my friends unintentionally started to run our own business – We didn't set out with a business plan, we were just like "Oh, we'll just start doing concert posters and see where it goes…" It was just this fun thing to do to inspire ourselves and get our creative juices going. It was just me and two other guys, and we started this company called Little Jacket, which is actually still around in Cleveland, Ohio.
Back then (around 2004), it felt like pre-Internet days, even though it obviously wasn't! I feel like younger students now have so many things that make it easier – There's Cargo Collective or there's Indexhibit, all these things that you can build a website out of, all these different communities you can be involved in, all these different social media outlets that you can get your name out there with. We were just doing posters on a local level, it had this local buzz, and we'd share our work on gigposters.com. Doing these silly posters actually led to doing client work, which we did for about 4-5 years. Around 2008/2009, I was just kinda spent, so I finished my degree, finished school, and moved to Philadelphia for a job in advertising, because I was tired of working on my own and that not going so well, and I wanted to learn something new from somebody else – The idea of working with a proper business with larger clients appealed to me, so I did that for 2 years, at this place in town called 160over90. A year ago, I quit that, and now I'm working on my own.
How do you approach a new project? What's your design process like?
It all depends on what it is, but I am a big advocate of sketching – No matter what you do, it's always a really important part of the process to just sit down, sketch and get all of your ideas on paper. It's one of those things that makes me feel better about my work: to just get it all out so that I can see it, and ask myself "Is that all I have?" I always set myself this challenge when I'm sketching to fill the whole page,so that there aren't pockets that are left, and you have to really force yourself to get that extra idea out. Sometimes, that's the coolest idea you have.
One of the things that I regret a lot is that on my site, I only have end results – I usually have loads of good process stuff, and I never show that, which is kinda sad. So that's a goal for the year: To get a blog up where I can talk more about what actually went into things, as opposed to just the end product.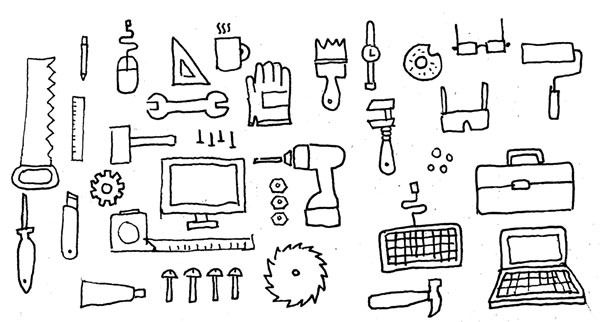 You've been involved in a few high-profile self-initiated projects, such as Freelance Ain't Free. How much of your work is self-initiated projects, and how much is client work? Is there one you prefer over the other, and why?
This is another thing I'm trying to work on this year. I can't say no to client work. I don't turn away a lot of client work, but it's really hard. If I can see myself getting it done in the next few days, I usually don't say no. Just because I like, uh, money.
And that's a good way to be – to just not say no, work really hard and take on everything you can. But in the same respect, the things that I really like (that have been working out) are some of the side projects that I do, like Freelance Ain't Free. Some people do these side projects and get hundreds of thousands of followers out of it, or just really cool work – Jessica Hische is just the Queen of Typography now, after doing Daily Drop Cap, and now she gets to do the titles for the new Wes Anderson movie, which is just awesome and amazing!
In my case, Freelance Ain't Free was just a simple idea which I made myself do – It wasn't like I was going to build a site around it, I just went home to Ohio, and was like "Okay, I love letterpress, I need to print something while I'm there." I was just tired of people coming to me saying "I only have $5 for you to do 100,000 hours worth of work." I mean, you're a giant company, you can pay me something. I just got kinda frustrated with that, so I thought "'Freelance Ain't Free', that's a cool idea". So I just did some prints of that, and thought that they were cool, so I did a little site around it. As I was doing that, I decided to do a logo for it. When the site launched, I thought "Oh, this logo is cool", so that became a t-shirt – It was just this organic process. I didn't have to pay for stuff along the way – I didn't pay for the prints, because my friend gave me the paper and let me borrow the ink, which was really nice of him. I just sold the prints, paid him back for whatever I owed him, and then I had money left over to print the t-shirts, and now it's just this thing that pays for itself.
It's been pretty interesting, because it's not like it's a ton of work – I mean, I have to pack up all the prints and stuff, but I've sold a couple hundred shirts, and, for a dude working out of his apartment, that's money in pocket. I remember thinking when it first came out "Man, I need to focus on these side projects more" – You can do things that you like, or think are fun or interesting, and actually make money out of it – It's kinda crazy.
That even applies to my thesis project that I did in school – Usually when I lecture, that's a big part of my talk, because there was a 4-5 month process of me just working and making stuff, and it going nowhere. In the educational world, I did a really bad job, but in the end, it was a lot of work that I really liked. Years after I was done with it, it was picked up on a couple of blogs, and these guys who do run Out Of Print Clothing contacted me about collaborating. Their idea is real, beautiful, old art, whether it be Moby Dick, or The Great Gatsby, printed on t-shirts. They really liked the work I had done, and asked if I would be their first artist series, and I was like "Yeah, of course!" That's another thing that I just made for myself that become this other thing outside of that – I still collect royalties off of that now, which is really cool.
So yeah, self-motivated work is… awesome. And I wanna make more of it.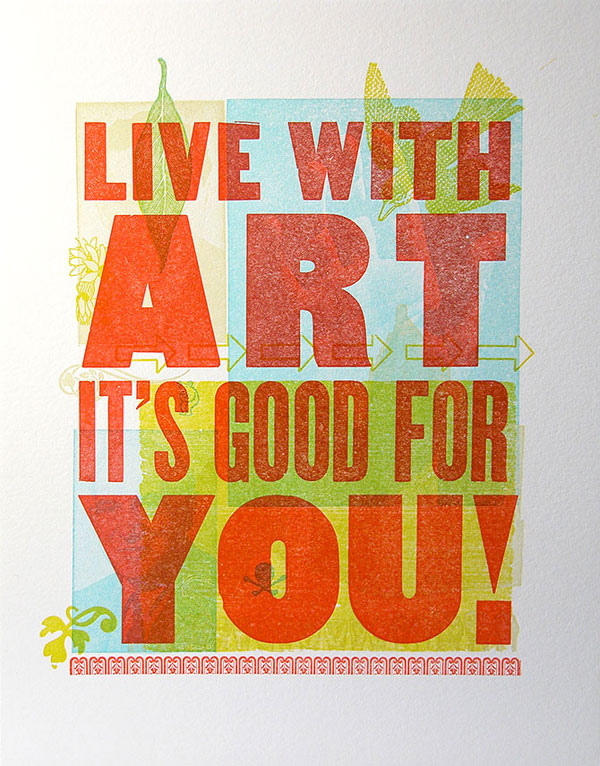 Your style is awesomely vintage, and, as you've described it yourself, "Midwesterny". Did you decide to adopt that style, or was it simply something that evolved? How important is it, do you feel, or establish a style, as opposed to maintaining a variety of styles?
It sucks, because I look at a lot of the trends out there in the world now, and I don't want to be part of a trend, but I know that my work can be seen as trendy. I think why my work is textural, or retro, or vintage, is because when I was in school, they had a printing press there – one of the old letterpresses, with a pretty decent type collection: just a lot of stuff you can go in and get your hands dirty with. That part of it was so interesting to me – the fact that you could move stuff around, and not have to use a computer, you could line up this type and it prints, and if you don't ink it right, it'll print out funny. There was a certain beauty to that mistake: it was just so rich and honest. Even back around 2000 there was all those "distressed" fonts and vector garbage stuff, but this was honest and truthful – I always loved that aesthetic out of letterpress and screenprinting and the qualities that came with the printing itself, so I always try to recreate that in the most authentic way I can, with it still being a digital work.
I don't like that it's a "style", because I worry that someday, that style will end, and then I'll be out of a job – That's really frustrating. Even though I do do a lot of illustrative work, I like to make it somewhat conceptual at the same time, so there's at least some wit or simple idea to everything I do. That way, it's finding a visual solution, rather than it being just a "cool style".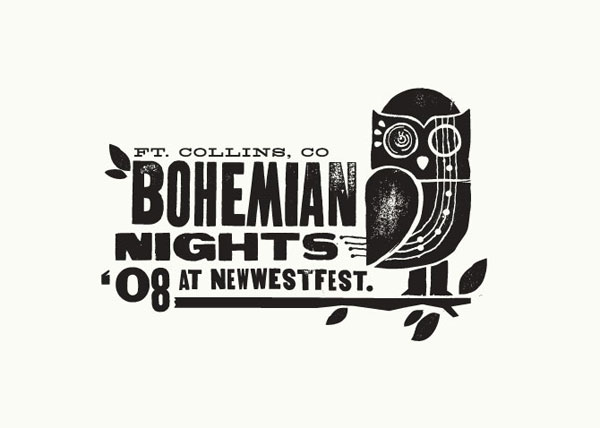 If, in some Freaky Friday-like situation, you could live the life of another designer, illustrator or creative, for a day, who would it be, and why?
I dunno, that's a really tough one. Part of me wants to just have a letterpress, live in the woods, not talk to anybody and just print. I dunno if I'd ever want to be anybody else, but that's what I want to do. There's this documentary (Alone in the Wilderness) about this guy who goes into the woods and builds a log cabin out of nothing, he even builds the hinges of the door, and kitchen utensils and stuff. I think that's awesome. And then I wanna just have a letterpress and print all day. In silence. And just grow a really big beard. Like, never cut it for years. And then someone will see me and be like "Who is that?"
Does that answer your question?
What design tools could you not live without?
Oh, jeez, I have a lot! I can't live without my Mac, I guess – That's pretty obvious, everybody says that.
I have a printer that I use, that prints out things really poorly. That's how I generate a lot of my textures now – It's some really old HP Laserjet. Whenever it breaks, I'm just gonna be, uh, fucked. I actually don't know what I'd do. Before that, I'd always use really abrasive stuff, like acetone transfer pens. I was using them one time, and my nose just started bleeding. I was just like "This isn't good."
I have a couple of books that I like.
Handbook of Pictorial Symbols (Dover Pictorial Archive)
Rudolf Modley, William R. Myers
Trademarks and symbols; vol. 1: Alphabetical designs; vol. 2: Symbolical designs.
Yasaburo Kuwayama

American Wood Type: 1828-1900 – Notes on the Evolution of Decorated and Large Types
by Rob Roy Kelly
I really like the Rob Roy Kelly wood type books, I have a couple of those.
When I get something that I really like, I tend to stick with them for a while. I've just switched to a Micron 0.5mm pen that I always use, and I always use the same sketchbook now.
And finally, what tips would you give to anybody who is looking to get started in design?
I've already talked about doing self-initiated projects, that's always something that you have to do. When I talk about it to people, I call it "work for work" – The idea that self-motivated projects generate client work. I'm a complete advocate for that.
The other thing is simply don't be a dick. It's something I think about a lot of the time – You just kinda have to be nice to everybody. No matter how much somebody rubs you the wrong way, you just have to be really nice. The design community is so small, and everybody knows everybody, so if you treat people poorly, or you don't work hard, or you're just mean, everybody's gonna know pretty quickly. Especially now, with the internet, where everybody has online personas, you just gotta be nice, you just can't really be a dick.
I worked at a place here in town, and I think about the network of people who worked there, and where they live now, and how I acted around them when I was working with them. One guy worked there for 12 months, and he's now the art director at New York Magazine. One guy lives in LA, and he does projects with Good Magazine. One guy I knew worked at Nike for a couple of years. That's three people, and it pushes it all to different coasts – It's kinda crazy how many people you interact with, and then how it has just spread out in that way. So don't be a dick.
Thanks Mikey!
Thanks a million to Mikey for talking to me – I really enjoyed talking with him, and hopefully you love his answers as much as I do!
Why not check out Mikey's site, and follow him on Dribbble and Twitter?