One

Minute

With…


Jay Fletcher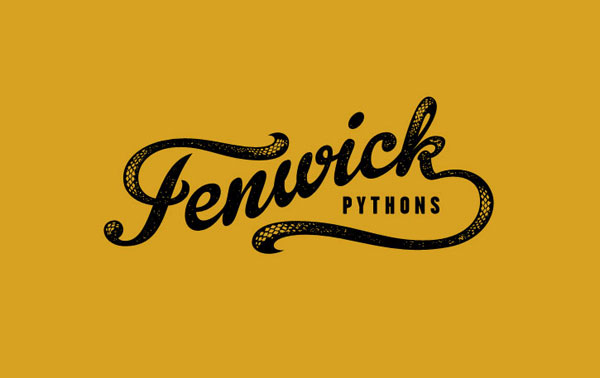 Hi Jay, thanks for taking the time to chat with One Minute With. Tell us a little bit about yourself and your work.
Thanks for having me. You've got some rockin' interviews on your site with a lot of people whose work I really admire, so I'm honored to be a part.
I'm 33 years old, originally from Connecticut, and currently living in Charleston, South Carolina by way of the Columbus College of Art & Design in Columbus, Ohio. I've been down here for around 11 years and have been full-time on my own for the past four or five. People often ask me that question – "how long have you been on your own?" – and I don't really know the exact answer. One day I need to take a minute and do the math.
In school I majored in illustration and my first job out of college was as a staff illustrator at a daily newspaper in small-town South Carolina. I worked there for about a year with my sights set on Charleston, and then got a gig in 2001 at Charleston's daily newspaper, The Post and Courier. My focus at that point was 90% illustration and 10% design, and it seems like that balance has slowly shifted to the opposite over the past decade.
I'm not really sure what I can say about my work that'd be interesting, but it seems like that early illustration focus has played a big part in how I approach things now. I wouldn't necessarily call all my work "illustrative," but I tend to always try and boil a project down to that one main visual narrative. It's important to me that things speak with a clear voice and that all the bits & pieces paint a single picture.
How did you get into design? Was there a defining point in your career, and if so, how did it shape you as a designer?
There was definitely a turning point when I became more intrigued by design than illustration. Design seemed more challenging to me, which I found exciting. It's more interactive, more functional. It's less "here's the story, now go put your spin on it" and more "work in tandem with somebody to find their voice." I think I discovered that I'm more comfortable thinking of myself as a medium or a filter than I am thinking of myself as an artist. There's obviously a lot of overlap between an illustrator's and designer's mindsets, but design is primarily about crafting somebody else's experience, which is a cool responsibility.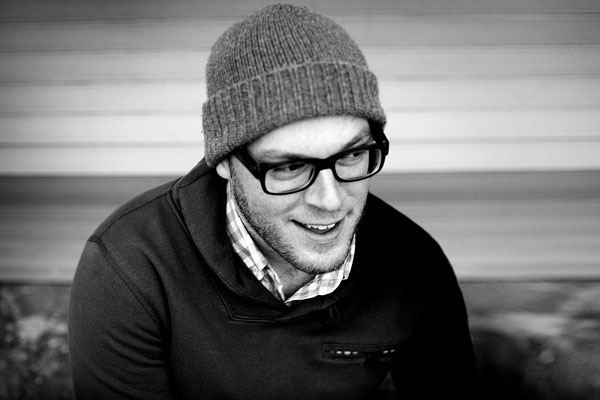 What do you think of as the biggest achievement in your career so far? And for balance, what do you consider your biggest failure?
Working full-time for myself and paying the bills completely on my own was a huge achievement. It took many years of burning the candle at both ends and a lot of learning. There have been some great milestones along the way – the first time I saw one of my logos on a storefront, the first time I got work into Print and CA, the first time somebody called from overseas about a project, and so on – but I'd say just the basic accomplishment of supporting myself, by myself, is what I'm most proud of.
As far as my biggest failure goes, I think it's more that I've had lots of little failures along the way. Sometimes achieving a harmonious, fruitful client-designer relationship is challenging, and often times what people want and what they need are two different things. It takes a while to find the balance required to give people both, and that journey has had its share of missteps.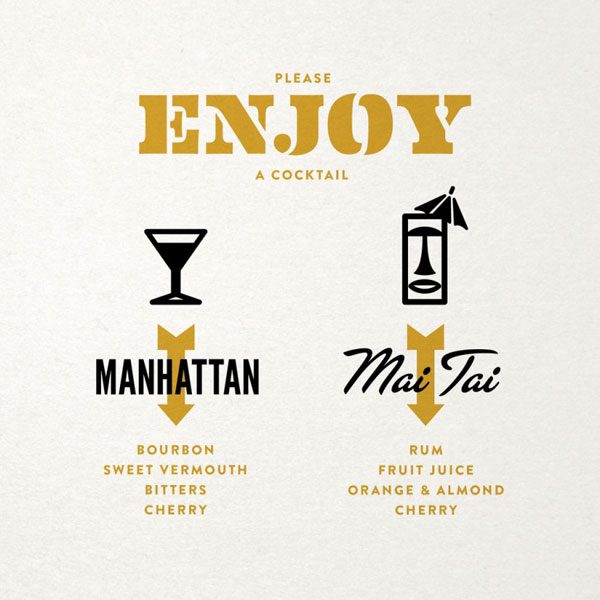 Your work spans all kinds of fields – Branding, print, web, illustration, and so much more. If, in some horrible parallel universe, you could only do one of these, which would it be?
I'd have to go with branding / identity work. I love the process. Getting to know the ins & outs of a new client, taking a look at their needs, formulating a game plan, and eventually ending up with something that's ideally hitting all the right notes to set them up for success. I like that it's not a one-off thing. You're creating the basic puzzle pieces that'll come to represent the brand and what it stands for. The identity will grow and take on meaning as their business grows. Those puzzle pieces have to be interesting and unique, but flexible and organic at the same time.
I'm going to totally bite something I recently read in a Scott Allen Hill interview that stuck with me. I don't remember his exact words, but it was something about the joy of getting to team up with people / products / services who deserve to look a lot better than they do. I couldn't agree with that more. There's nothing better than a new client who is absolutely fantastic, but doesn't look absolutely fantastic.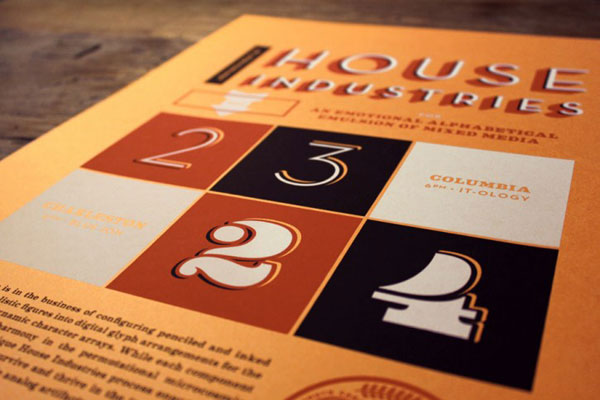 Quite a bit of your work seems to be for other designers/design events – How does having a designer as a client compare to a "normal" client? What new challenges does it bring?
I'd like to say "creative clients are better or worse in the following ways…," but my experience has been that everybody's different and I probably wouldn't make a generalization. Sometimes creative clients are more mindful of the process and sometimes they're not. Sometimes "normal" clients are a bit more trusting because they're not mindful of the process, and sometimes they're not. Each client-designer relationship is oddly unique.
You also do quite a bit of design for local businesses in your hometown of Charleston – Do you think it's important to work for local businesses as well as these companies from far-flung parts of the world? Does it have any particular perks?
It's without-a-doubt important to me to stay tied to Charleston. Us Charlestonians have a huge sense of pride in where we live and our creative community is unbelievably supportive of one another. I think our creatives are quicker to sing each other's praises than we are our own. So from a community pride standpoint alone, I absolutely want to be thought of as a "local designer." I'll always be ready to team up with my neighbors and try to make Charleston an even better place.
And as cheesy as this might sound, that's also the perk. Traveling down some of the most beautiful streets in the country and seeing my hand in things is a very rewarding feeling.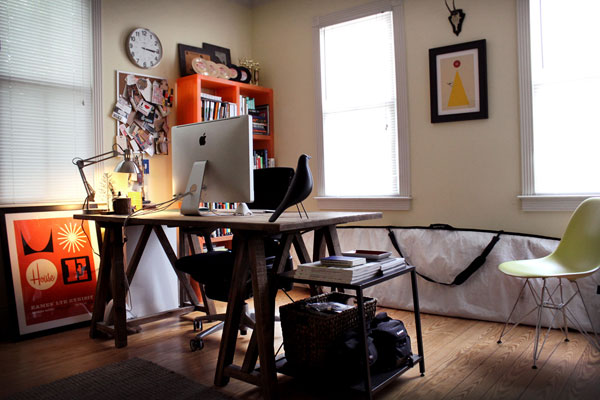 If, in some Freaky Friday-like situation, you could live the life of another designer, illustrator or creative, for a day, who would it be, and why?
Anybody at Pentagram. Probably Michael Bierut. The guy learned from Vignelli and I'm in awe of Pentagram's body of work. It's such pure design. They marry form and function so damn well, and they do incredible stuff for entities that must be extremely difficult to navigate. It's like they're off digging the English Channel while I'm building popsicle stick bird cages. I'd love to know what that's like.
Outside of that, I'd like to know what it's like to be an amazing chef. I can't imagine looking at a bunch of raw ingredients and thinking "OK, now I'll whip all this random stuff up into something delicious."
How would you define success? Do you think you've found it yet?
I think this goes back to the "my biggest achievement is just working for myself" answer I gave earlier. If I can keep that going and live a comfortable life with the fruits of my labor, I'd consider that being successful. So I guess while I'm proud of where I am, I'd hesitate to definitively say "I've found success."
Though it's relatively fleeting, I also feel successful when my clients are successful. When somebody immediately sees a return on investing in good design. The hamburger slinger who's selling twice as many hamburgers because their business now looks credible, or the real estate guy who's selling more homes because we put together a piece that speaks properly to his potential customers. Those moments make me feel like I know what I'm doing, and reinforce the fact that design can make a huge difference to the people I'm doing it for.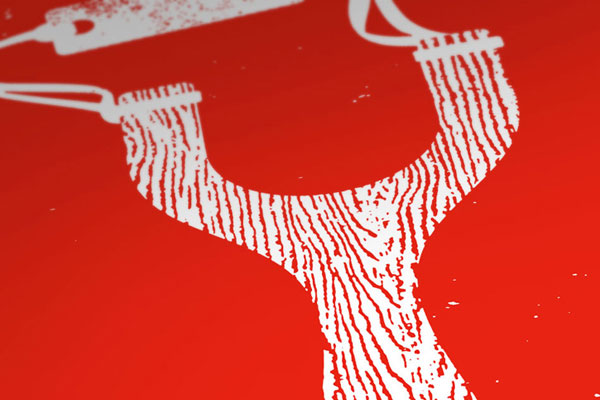 And finally, what tips would you give to anybody who is looking to get started in design?
Focus on what design actually is and you'll have a much easier go at things. I think a lot of people get into design because they're creative and they want to express themselves, and while there's room for that at times, design is supposed to be about the expression of somebody else. Young designers and clients often butt heads because the designer likes what they've created on a personal level but fails to realize it isn't meeting the client's needs. Just because something is beautiful or trendy-looking doesn't mean it's good design.
Learn how to articulate and defend your work. Putting good work in front of people and expecting them to understand why it's good rarely ends well. Creating well-crafted work is only half the battle. You have to usher your clients through a logical, layman's terms explanation of why it's right for them and how it's solving their unique problems. The conversation shouldn't be about whether or not something looks good, it should be about why it is good.
And hard work really is everything. Getting to a point where you're doing the work you want to be doing, for the people you want to be doing it for, takes time and a lot of elbow grease. In the beginning, take whatever project you can get your hands on and knock it out of the park. Despite what you're getting paid, every minute you put into something is a minute you're investing in yourself.
Thanks Jay!
Thanks so much to Jay for giving us an insight into his world! I really enjoyed talking to him, and found his answers really interesting!