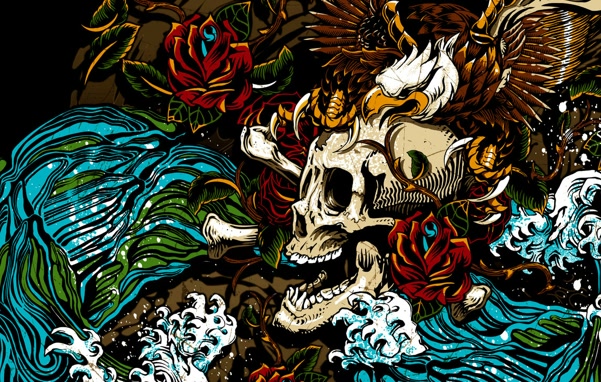 Hi Jimi, thanks for taking time to chat with One Minute With. Tell us a little bit about yourself and your work.
I go by the artist name Jimiyo. I took that name years ago about the time Al Gore invented the internet because I was really into hip hop and I would greet everyone with "Yo."
I started out on a Commodore 64 drawing in GEOS (a kinda-operating system/productivity software package), and somehow I find myself today still doodle-fartin' in Photoshop and making a livelihood from art and art directing.
I work as the art director for Teefury.com so most of the art I create is for fun or curiosity. I suppose that's the way it should be. Maybe.
Walk us through a typical day in the life of Jimi Benedict.
I just moved from the west coast to Alabama for the time being so I wake up around a little around noon CST. I work freelance from home so I usually take it easy in the mornings. I have my cup of double bergamot earl grey with honey on the porch taking in some midday sun and quiet time with Bessie Bell the long haired Chihuahua in my lap. Then it's off to work!
I work on Teefury.com for my first few hours, checking our sales stats, replying to artist's email, and sifting through the hundreds of submissions to find a few good ones that will get showcased on our site. It's amazing to be in pop culture business because part of my day involves gleaning what's hot and trendy by surfing the internet and "researching" entertainment media.
Beyond that, I usually try to do some kind of art. I've been picking up the pencil lately, so I doodle later in the day or at night.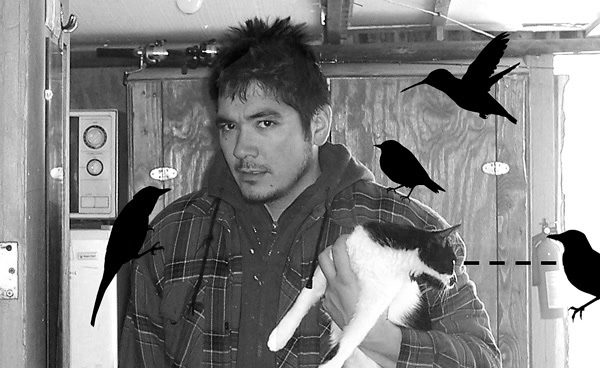 How did you get into design?
I went to Uni for digital animation, and after graduation I couldn't get a job ANYWHERE with my art skills. So I spent two years selling computers at Dell, all the while at night after work, refining my Photoshop skills and building an online portfolio. Eventually I saved up enough money to quit my job and try to go freelance as a starving artist, so I took the leap. Within two months, an art director saw my online portfolio and I got my first art job as a Nascar t-shirt designer. The rest is history I suppose. Online is where it's at! Without the internet I'd probably still be schlepping $399 computers and hating every minute of it.
How do you approach a new project? What's your creative process like?
I surf the internet for a ton of reference photos, and art by which I get inspired. I usually end up sketching ideas on paper first. After I have enough pieces, I collage sketches, photos, stock vector, to lay out a composition. After everything is laid out, I wield my trusty Photoshop and slay the heck out of some caffeine and somehow crank out a final product.
Your work is almost entirely in the t-shirt design field. What is it about t-shirt design that you prefer over other types of design?
I suppose it's just the market I was able to find an easy source of income. I've done a few poster designs which I sell through my own indie store, and in the future, I hope to work on more credible, clout worthy media. T-shirts are cool, but I think most art connoisseurs would consider t-shirt art the lowest of low brow art.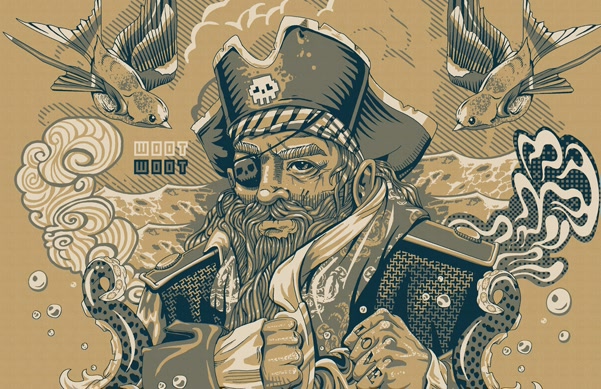 You work with TeeFury, a t-shirt-a-day site. With these sorts of sites having really taken off recently, what makes TeeFury different to the rest?
We were the first shirt-a-day site. And second is the first loser. No, in all seriousness, I think shirt.woot was the first, but they have a slightly different sales/business model and totally different market.
Since we have been around longer than all the other clone sites, we're way ahead on logistics. We ship faster. We have a great production team. We know our community and what they want to see. We have it down to a science and we're always advancing. I always joke that we also have two shut in recluses with OCD that propel us way beyond any competition just by sheer brute force work. Those two shut-ins being myself and our other curator/social media lead MJ. We're obsessed with shirts. I'm not sure if the other companies are as enthusiastic since they just mimic our business model and product line.
We love what we do. I think that puts us way ahead because we don't mind working hard.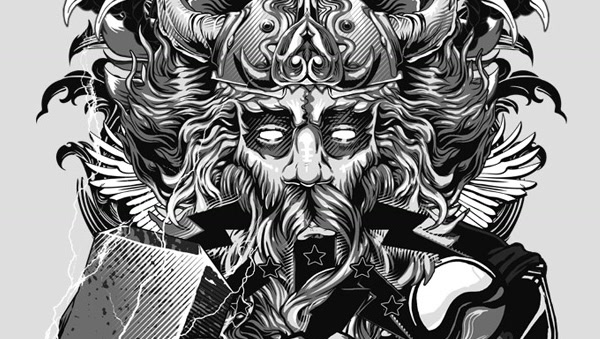 Your illustrations span a huge range of content and style – Is there a particular style of subject matter you enjoy drawing over the rest, or do you enjoy having so much variety?
The variety is primarily because of necessity. The shirts are for bread and butter and the rest is for fun and experimentation.
I really enjoy the stylings of Aaron Horkey and traditional metal engravers, so my favorite designs to create, although they aren't as popular as my pop culture schtick are the artsy designs with abundance of baroque filigree and embellishments around a focal point. I typically like to have meaning and symbolism in my designs so I tend to weave in elements, obvious or not, into my designs that have personal meaning.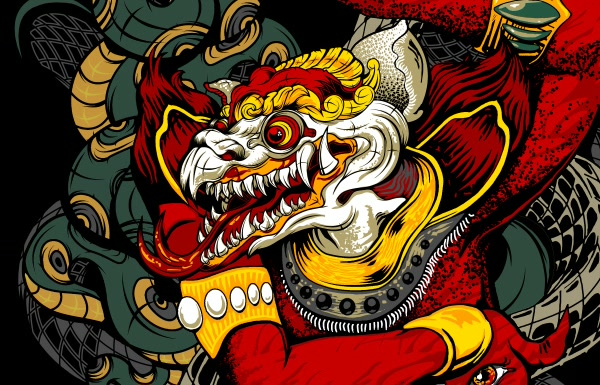 What design tools could you not live without?
Photoshop
Cintiq
Pencil and Paper
I really enjoy PrtScr, a free screen capture program for PC. http://www.fiastarta.com/PrtScr/
DeviantArt.com is so full of inspiration goodness. Although it's mostly painterly, less design-y.
Beyond that, I'm not that particular.
And finally, what tips would you give to anybody who is looking to get started in design or illustration?
At all costs, get yourself a job in the industry, even if the pay is terrible. The longer you go working in a job that's not in the field of your desires, the stronger you will have to be to break out. I started my art career at $10 an hour. The bonus was they let me print my own t-shirts after hours. Experience is more valuable than immediate money for XBOX, beer, and cigarettes. You can buy a ton of it later once you start making good paper.
Be passionate about designing and illustrating. To become successful, I think it takes a certain amount of internal drive – the kind that makes you create art for the love of creating, not for money.
Get involved in extra curricular art/design/illustration activities. Win some contests. Participate in gallery shows.
Get good equipment. Often times, my shoddy computer was a detriment to my artistic growth.
Quantity leads to Quality. Trying to make a perfect illustration or design is silly. Perfectionism will hinder you from getting better.
The Internet is amazing. You can become famous via the web, or at least "famous" enough to supplement your income with money earned through selling your art direct to fans.
Thanks Jimi!
Many thanks to Jimi for talking to us. I really enjoyed his answers, and hopefully you did too!
Why not check out Jimi's site, and follow him on DeviantART and Twitter?