One

Minute

With…


Jeff Finley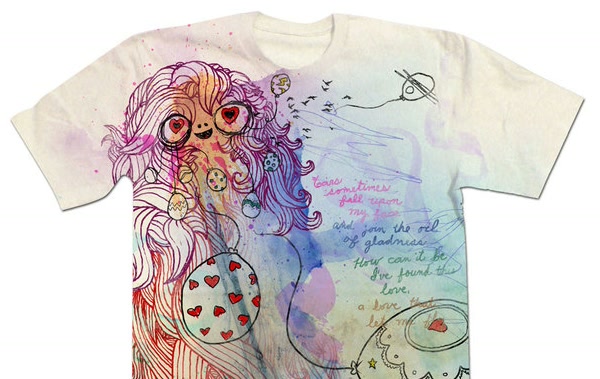 Hi Jeff, thanks for taking time to chat with One Minute With. Tell us a little bit about yourself and your work.
Well, I'm Jeff Finley and I'm an artist, designer, and entrepreneur. I'm part owner of Go Media and founder of Weapons of Mass Creation Fest and author of Thread's Not Dead: The Designer's Guide to the Apparel Industry. I kind of a do a bunch of stuff in and around the design community.
Walk us through a typical day in the life of Jeff Finley.
As one of three owners at Go Media I'm involved in just about every aspect of the business so a typical day can be very different from the last. I could be working with our clients doing some sort of illustration or design, or working on our own brand positioning and company philosophy. And when I'm not doing that, I'm overseeing the Arsenal and GoMediaZine and hustling in general. I'm always looking for new/better ways to promote and grow Go Media.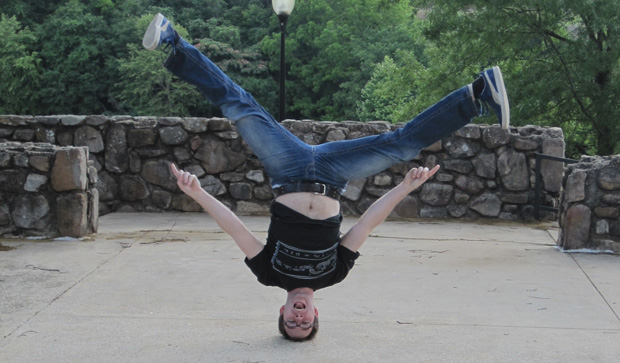 How did you get into design?
I was originally interested in making video games or working in the movies in some way, but I was drawn to doing artwork for bands out of college. I turned that into a freelance career which led to partnering up with Go Media. I got into graphic design that way.
How do you approach a new project? What's your design process like?
Generally I like to talk with the client about their goals and inspirations and I come up with ideas to help them achieve them the best way I know how. We use our Proof Lab software (soon available to the public) to manage the design process from start to finish with our clients. And if it goes like you would expect, once we get approval on the idea, we send over sketches or initial concepts for approval. We get approval each step of the way until the client is satisfied with the final result.
With the likes of the GoMediaZine and the Arsenal, Go Media has a huge community presence. How important is it to be involved in the design community, do you feel?
It's natural to me to be involved in the community, so I do it because I like it. But it's important for all brands to do that – well at least that's what people tell me! We've been meeting with PR firms and brand strategists recently and they all get paid to help their clients get more in tune with their social/community presence. They say Go Media is a great example of what other brands should be doing. Creating their own content and putting their faces and voices out there. We always knew that if we create cool things that have Go Media's name attached to them, eventually people will find us and discover what we do which leads to more work and opportunities. It's not rocket science. And we're really supportive of what other designers and brands are doing around us. We have always been helpful of other designers and we know that by being nice, helpful, and supportive, others will return the favor. That's part of the reason why we started Weapons of Mass Creation Fest, was to unite the design community around us and put Cleveland on the map as a creative hot spot.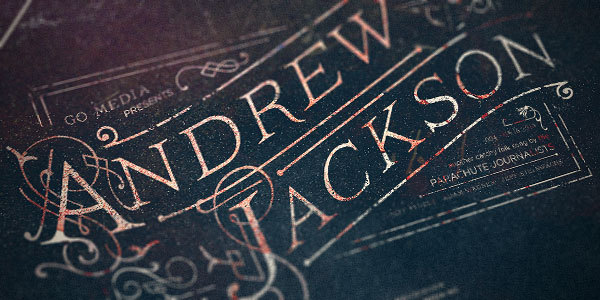 In 2010, you launched Weapons of Mass Creation. Why did you decide to launch your own design conference, and what makes WMC different to the rest?
I originally just wanted to start a fest with my favorite DIY punk and folk bands and mash it up with art & design. I wanted to put my own spin on a fest. People seemed to really dig the idea and volunteered their time to help me build it. There was definitely this attraction to building something awesome together in Cleveland. A lot of awesome people have latched onto the indie and DIY ideals and values of the festival, which I made sure were really prominent. I think what makes WMC different is the fact that it's extremely affordable and feels more like an intimate summer camp type event rather than a bloated, over-the-top design conference with huge corporate sponsors and high prices.
You recently wrote "Thread's Not Dead", a book all about t-shirt design. What inspired you to write a book, and how different is it to writing blog posts?
I had been writing blog posts and even recording and selling video tutorials for some time, so the idea of writing a book just seemed like the next step. However, it wasn't until I read The Four Hour Workweek, that I actually considered making it happen. We already knew how awesome it was to sell information products – we'd been selling stock vectors, textures, and other stuff like that on the Arsenal since 2006. So we already had a platform to sell an ebook, all I needed to do was make it. I intended to only spend about a month writing it. I thought I'd be able to interview some of my favorite people in the t-shirt design scene and assemble it together into a book with my own narrative and it would be done. But that wasn't the case at all. As I wrote it, my internal quality quotient wouldn't let me release it until it was something I could be proud of. I didn't want it to look like a shitty ebook, so I designed it like a real book. First time ever designing a book layout, what a joy that was (not!) haha. I got a taste for InDesign though! I wanted to make sure the book was full of inspirational stories and images and had a real value to it. If I was going to sell it for $50, I had better make it as good as I can! So that's how it happened. Of course, once it was out in ebook form, people pressured me into making it into a hardcover, which I am proud to say I gave into the pressure and did it. You can get it on Amazon now, how cool is that?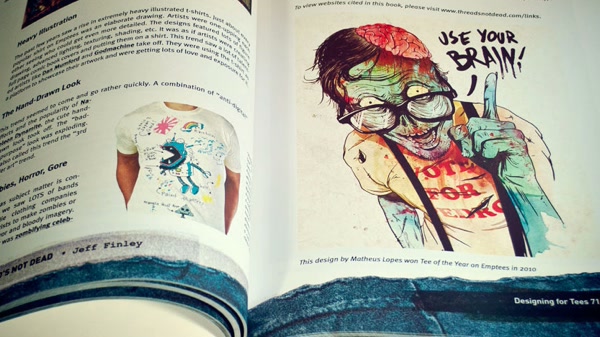 What design tools could you not live without?
The Adobe Creative Suite of course, Wacom Tablet, Moleskine, iPod, etc. This is probably a pretty clichéd list I would assume!
And finally, what tips would you give to anybody who is looking to get started in design?
Start freelancing as soon as possible – get a portfolio website up there even if you have to use Cargo or Behance. When you produce something, post it online to share and get feedback. Get involved in forums and design communities, attend events, get involved with AIGA, etc. Make yourself known!
Thanks Jeff!
Thanks a million to Jeff for sharing his thoughts! I really enjoyed talking to him, and found his answers really interesting!