One

Minute

With…


Erin Fuller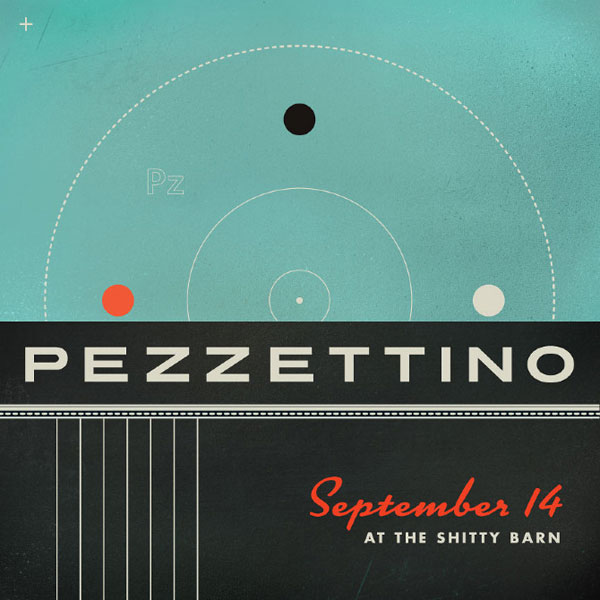 Hi Erin, thanks for taking the time to chat with OneMinuteWith. Tell us a little bit about yourself and your work.
Thanks for having me! Humbled. Honored. Happy to be here.
Whelp, my name is Erin Fuller – designer, music junkie, and last-but-certainly-not-least mom to a very busy 4yr old boy. I'm also a co-producer/founder and design maven for The Shitty Barn Sessions. I currently live in this magical little village nestled in the driftless area of Wisconsin called Spring Green – which is home to FLLW's Taliesin, American Players Theatre, THE SHITTY BARN(!!!) and The House on the Rock. Been here for 9 years and love it… BUT, recently gave up the full-time independent designer gig and now commute an hour to Madison everyday for my rad job as a senior designer at Planet Propaganda. SO! This summer, I'm packing my bags and moving (back) to Madison to cut my commute to enable spending more time with my kid and be closer to stores that are open past 6pm.
Walk us through a typical day in the life of Erin Fuller.
I'm a single mom and get up when my son does (between 4:45 and 6:30am). He's fairly suspect of getting dressed, eating breakfast and brushing his teeth most every morning so the aforementioned tasks can take anywhere from 5 to 50 minutes depending how cooperative he's feeling. If you don't have kids, imagine trying to put pants on a chicken…its kinda like that. When he's taken care of, I make myself presentable and prep the both of us for the daily commute into Madison (about 1hr). After battling rural traffic (comprised of tractors and people who consistently go only 45mph ALL. THE. TIME.), I drop the kiddo off at preschool and make my way downtown to Planet Propaganda; eat breakfast grab a sip of coffee, check e-mails and start the work day. Its typically pretty busy so I usually eat something resembling lunch at my desk and am always surprised how quickly the 5 o'clock hour rolls around, which is when I battle city traffic back across town to pick up the kiddo, resume mommying duties and do the reverse 1hr commute back home. Then it's dinner, bath, bedtime stories and cuddle time. After my son's down – If I haven't fallen asleep while tucking him in – I grab a glass of wine, listen to music and do one (maybe two, if I'm lucky) of 7,000 things that need my attention – which usually fall into one of the following categories:
• house work (bills, cleaning, etc)
• work work (anything I didn't get a chance to finish at work during the day)
• freelance work (Furthermore Beer)
• Shitty Barn duties (poster designing and 2012 poster series curating/project managing, social media stuffs)
• exercise
• pick up my guitar & pretend I know how to write songs
• go see live music
• fritter away time on interwebs hangouts #fb #twitter #nprmusic #musicblogs #tumblr #flickr #last.fm
Typically fall asleep between midnight and 2am every night. Rinse. Repeat.
Of course, there are days when my son's with his dad, in which, life is pretty much the same – except I get to reliably sleep past 6am, work a bit later, and tend to more than 1 or 2 things on my never-ending list of to-dos (all the while walking around like I'm missing a limb because I miss my kiddo something fierce).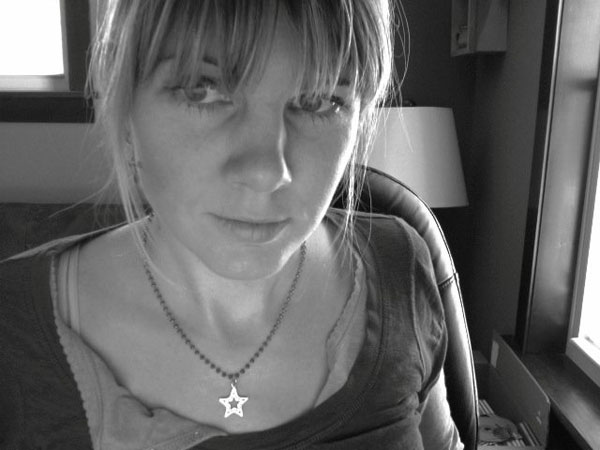 How did you get into design? Was there a defining point in your career, and if so, how did it shape you as a designer?
I started out as a music major in college and never considered doing anything else with my life. Ever. Of course, then I got to college, was tempted by something called a social life and decided spending 25hrs a week in a practice room wasn't for me. Because music had always been one of the most important parts of my life, I had already amassed a healthy collection of CDs, gig posters, and other music stuffs so, almost by osmosis, design already seemed pretty near and dear to my heart.
Design is a VERY big part of my life, but to this day, music is still my no. 1 boyfriend. He gets all my free time on the rare occasion there's some to spare. In an attempt to balance out that equation, 3 years ago, I started The Shitty Barn Sessions with a few friends, which, for me, perfectly marries my love of design AND music. As proof of concept, we had 5 shows the first summer and this year we're up to 43(!!) so I enlisted the talents of a few local design friends to help out with the poster series. Its been great to see it all come together and the performing artists are always very appreciative and impressed by the work. Soon, I'll be putting together a web page highlighting the art and designers participating this year in hopes to amplify the design component of the sessions (stay tuned). The barn gig is an absolute labor of love and I would do nothing but that full-time if we made any money on it. But, we're breaking even(ish), slowly making our mark and the performers are consistently calling us some iteration of the following testimonial: "The best & most humble venue in WI right now," and I'm pretty darn content with that.
How do you approach a new project? What's your creative process like?
Depends on the project, but typically, I like to get the low down, do some initial research and then marinate for a while. I'll pull any relevant samples from my Tumblr archive and seek out new sources of inspiration that are more relevant to the project. Then. Type. Ohhh beautiful type….(I normally don't disclose this information to the general public but seeing that this is a design-centric site, fairly certain I'm not alone when I proclaim my serious lust of letterforms). Ok. So. Where were we? Yes. The best part, type. So. I try on a few typefaces/styles to see what fits the bill for the particular project. Then it starts to grow from there.
I've been thinking A LOT about process in the past few years (particularly how the design process parallels/crosses over with creating music) but that's gonna eat up at least 30 minutes…So, next time your in Madison, lets get a drink and discuss this topic properly.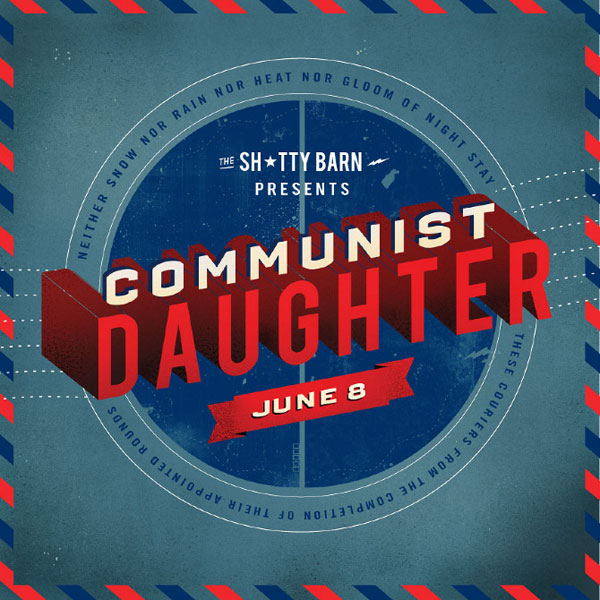 You work in numerous fields, from web, to print, to branding, to packaging. If, in a hypothetical universe that, for the sake of your career, we'll hope doesn't exist, you could only work in one of these fields, which would it be, and why?
PRINT. FOREVS.
The boundaries. Its tactile qualities. The nuances and artifacts exposed in the process. The smell of fresh ink….
You have a marvellous typography-centric retro style, with many geometric elements – Where do you get inspiration?
I pull a lot of my type-driven inspiration from vintage packaging, print ads and ephemera. If the internet didn't exist, I'd be living in amongst a pile of ticket stubs, mid-century packaging, hand painted signs and postcards picked up from antique stores. Lucky for me there's a healthy online community for such addictions so that's where I go to source out points of inspiration. About 2 years ago (pre-Pinterest explosion) I started a Tumblr (mentioned above) as a place to store all my inspiration. It's been, and continues to be, a great tool when I need a jump start or reference material.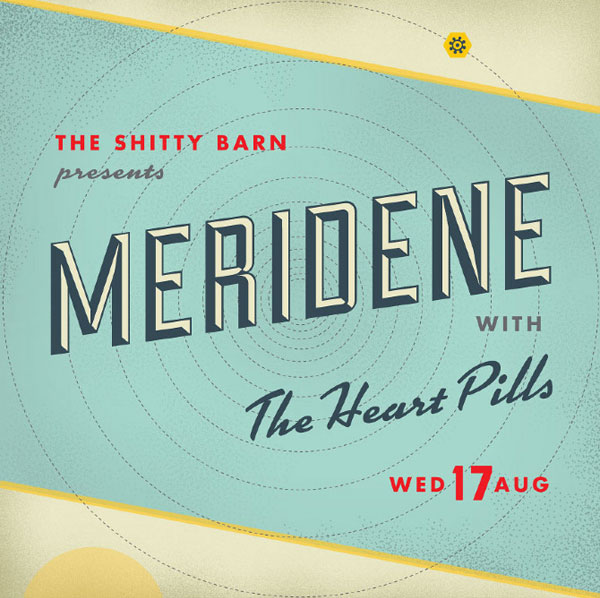 If, in some Freaky Friday-like situation, you could live the life of another designer, illustrator or creative, for a day, who would it be, and why?
Honestly, I don't know. Myself 10 years ago? I'd def. have a few words of advice for her like, "Have more confidence in your work," and "trust your instincts,"…. alas. Did I just dodge that question??
Ok, ok. If I could live another life and got to choose, I'd for sure skew music. Bob Boilen's got a pretty kick ass job…. Patti Smith? David Byrne? It'd be pretty kick ass to be Sharon Van Etten, Annie Clark or Leslie Feist at this point in their careers.
What design tools could you not live without?
ADOBE ILLUSTRATOR (and Photoshop), my Mac, a large monitor, reasonable computer speakers or headphones, music, volume control, the internet…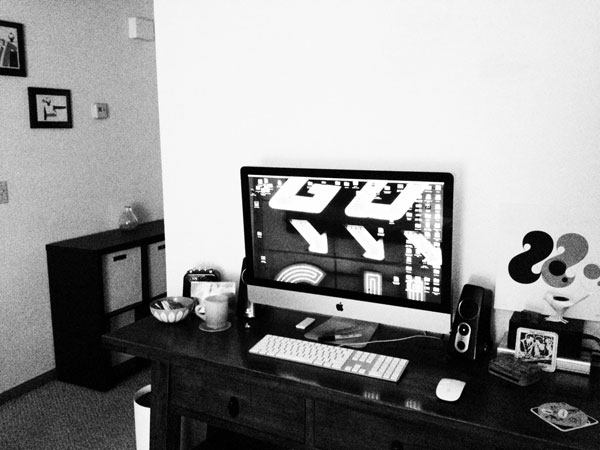 And finally, what tips would you give to anybody who is looking to get started in design?
Never stop learning. (And to borrow from above) Have confidence in your work. Trust your instincts. Be earnest. Don't use Papyrus. Ever.
Thanks Erin!
Many thanks to Erin for taking some time to talk to One Minute With. I loved having the chance to interview her, and hopefully you enjoyed reading it!
Why not check out Erin's site, and follow her on Dribbble and Twitter?