One

Minute

With…


Scotty Reifsnyder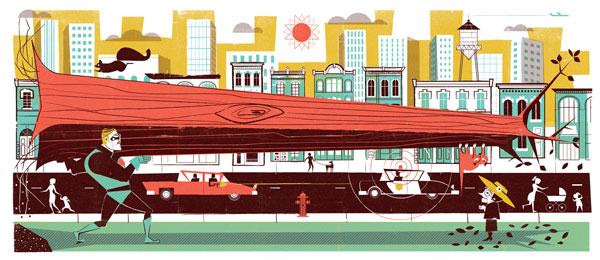 Hi Scotty, thanks for taking the time to chat with One Minute With. Tell us a little bit about yourself and your work.
I'm an illustrator and designer living in Pennsylvania. My wife and I have two young sons under the age of three and a television-watching West Highland Terrier. Seriously, every time an advert with a dog comes on, she goes ballistic! It was cute the first 3 times.
I teach illustration and design part-time at the University of Pennsylvania in nearby Philadelphia. Currently I'm involved in illustration work for clients in editorial design, publishing and some advertising. I started writing and illustrating a self initiated children's book this past Fall which I hope to have done by Summer/Fall 2013.
How did you get into design & illustration? Was there a defining point in your career, and if so, how did it shape you as a designer?
As a painting major in college I had a chance encounter with a Saul Bass lithograph while visiting a small museum in Allentown, Pennsylvania. It was a personal piece by Bass so I don't remember the name but it left an impression. The simple bold color palette and kinetic line work had me hooked. I would later find out more about Bass and his career as a designer which really got me on the path to where I am today. I was so impressed I eventually decided to switch majors and pursue a career in graphic design. With only a year left to go for my BFA in painting I decided to transfer to another art school with a strong design program.
Upon graduation I was hired by a small packaging and branding firm outside of Philadelphia. Unhappy and unfulfilled in my position as a designer and yearning to illustrate more I decided to take a leap of faith and enroll in graduate school in hopes of focusing on further developing my illustration style. Enrolling in graduate school was the best decision of my professional life. Being accepted to Tyler School of Art was the luckiest event in my professional life. At Tyler I was very fortunate to have had class with such talented people as Jessica Hische, Mary Kate McDevitt, Sean Costik and Jeremy Holmes. Being in class with those folks was intimidating as well as very inspiring.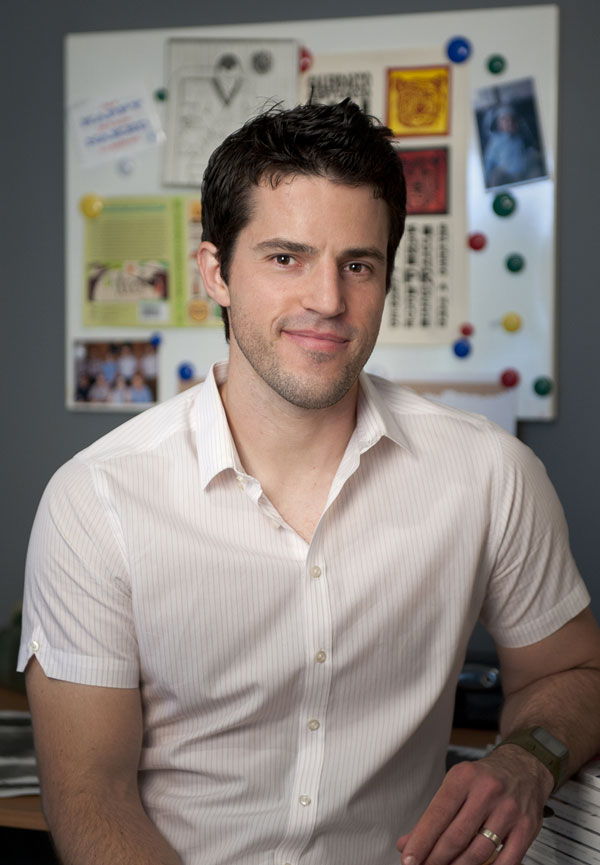 What do you think of as the biggest achievement in your career so far? And for balance, what do you consider your biggest failure?
Being commissioned by Disney to do an illustration of The Incredibles for a new gallery in Downtown Disneyland has got to be a career highlight. I'm currently working on a new illustration for another show coming up in December. A career failure would have to be an opportunity I had to work with Mondo. Timing was bad for me with my second son soon to be born and a new college semester about to begin. I had to pull out of a very cool project.
You, like many designers and illustrators, run a store, in which you sell various products. In an industry where work can fluctuate so greatly, how important is a passive income source like this, do you feel?
For me having an online store has been an invaluable tool for connecting with people around the globe. It's a nice source of extra income but it's way more beneficial from a promotional and socializing perspective. I did not anticipate how much affection people have for the characters I illustrated in my Heroes of Folk series. Paul Bunyan, Johnny Appleseed and Annie Oakley have been the most popular by far.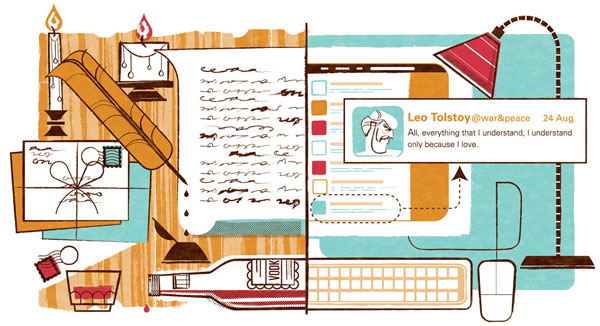 Having studied Graphic & Interactive Design at Tyler School of Art, you now teach illustration and design at the University of Pennsylvania. In an industry as rapidly-changing as ours, how important do you feel a formal education is?
Understanding the fundamentals of design is still key in this ever changing industry. I always tell my students the technology and software is always new but the principals stay the same. I encourage my classes to reference designers of the mid century to show how good design can be in such a low tech era. Alvin Lustig, Paul Rand and Herbert Beyer were doing intelligent designs that are timeless without the help of Adobe Creative Suite. The pen truly was mightier than the sword, or iMac, back in the day.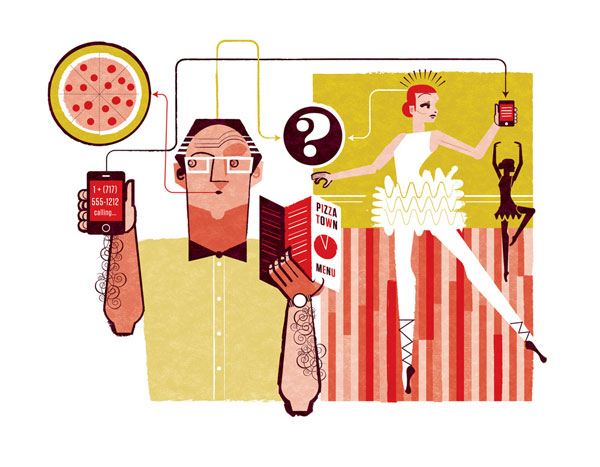 You've got a great style full of limited colour palettes, geometric shapes and a very organic feel. What inspires your work? In particular, is there anything outside of other design work that inspires you?
Films are probably the most influential art form to my work. Cinematography and how shots are framed are really influential to how I crop a composition. Color in a motion picture is very big for me too. Color can help drive a narrative and convey a scene's emotion. Kubrick was and in my humble opinion still the master of using color to further a film's narrative. The cold metallic colors of 2001 are contrasted beautifully with HAL's blinking ominous red eye. Color and cropping are all things I have to figure out when I'm working on a new commission so seeing it done so masterfully over the course of two hours always leaves me inspired.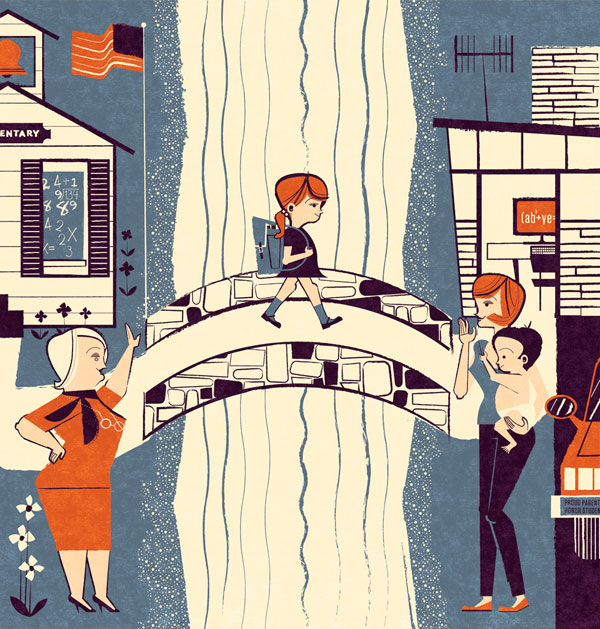 If, in some Freaky Friday-like situation, you could live the life of another designer, illustrator or creative, for a day, who would it be, and why?
Hmmm that's hard. I'd probably have to say Kevin Dart for one. He is a super talented guy who has his hand in a lot of very cool projects ranging from illustration, animation and toy design. His style is a combination of nostalgic and modern which is something I strive for in my own work. His work is very distinct and familiar at the same time.
The other person I'd like to trade places with for a day is Irish born illustrator Brian Cronin. His style is very distinct yet so conceptual. He hand paints a lot of his works now as opposed to his older digital illustration. For him concept is paramount. A lot like the great Christoph Niemann, the idea is more important than the quality of the drawing. I would love to just sit in a studio and hand paint all day. I'm working on that goal.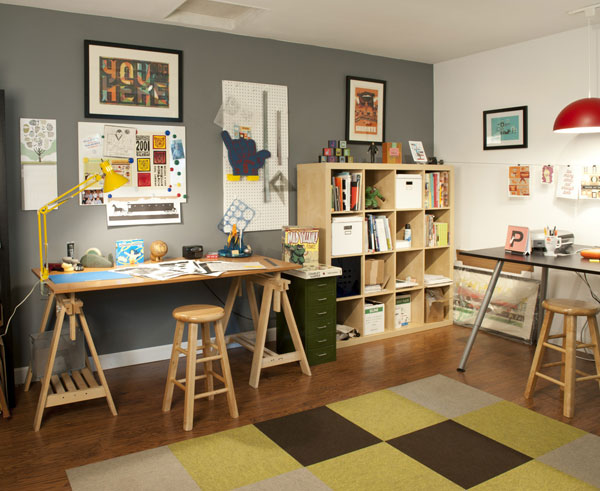 How would you define success? Do you think you've found it yet?
To me, success is doing what you love and being able to provide for yourself and your family. I can honestly say I'm doing that but to quote the great Don Draper, "Happiness is that moment before you need more happiness." I'm happy but there are definitely things I haven't done yet as an illustrator before I can consider myself a great success. One of those things I'd like to accomplish is illustrating a published children's book.
And finally, what tips would you give to anybody who is looking to get started in design or illustration?
Tips to give… As far as aspiring illustrators, I recommend creating your own passion project to work on the side. I think a lot of young designers/illustrators feel like they need to be commissioned by a client to justify showing it as a portfolio piece but that couldn't be further from the truth. Honestly some of the coolest client jobs I've gotten were because an art director somewhere saw something I did for a friend or myself. The Heroes of Folk cards were self initiated and funded by myself. I loathed my first design work because of the office politics and cliques. I think my anger and frustration with my predicament fueled my creative juices at night to produce illustration works of my own. It was very therapeutic! One last thing is it's NEVER too late to get started. I think I was 30 when I got out of grad school and 34 once I started on my own so get going already!
Thanks Scotty!
Many thanks to Scotty for talking to us. I really enjoyed his answers, and hopefully you did too!
Why not check out Scotty's site, and follow him on Dribbble and Twitter?