One

Minute

With…


Mattox Shuler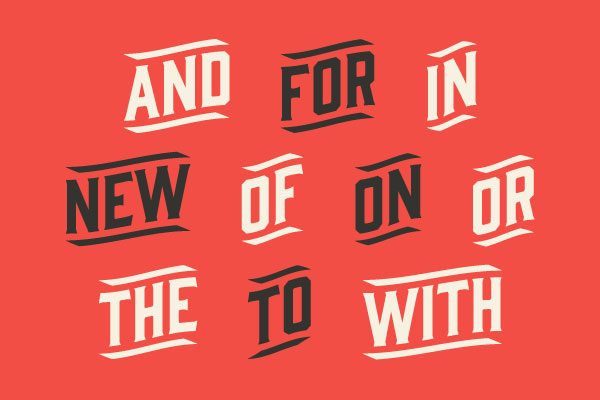 Hi Mattox, thanks for taking the time to chat with One Minute With. Tell us a little bit about yourself and your work.
Thanks so much for the interview. I just turned 25 and have been working in Seattle, WA for the past few years, but grew up in the dirty South (Georgia). I currently daylight as a Copy Writer / Content Manager at Mars Hill Church and moonlight as an aspiring type designer under the guise of Hold Fast Foundry.
How did you get into design? Was there a defining point in your career, and if so, how did it shape you as a designer?
It's not too romantic. Growing up, I was always doodling in class on notes. When I got into high school, I took an art class and snagged a copy of some Adobe apps because I wanted to make t-shirts and design a website for my band (like everyone else and their mom). That familiarized me with the tools and provided some fun, but I didn't know jack squat about design or what to look for.
After that, I headed off to the University of Georgia to study marketing and religion, but not much of design at all. I still doodled on class notes, did the casual t-shirt, and made a CD cover here and there, but nothing too fancy. Design was always a passion in the background, but I wasn't sure if it could pay the bills.
Upon graduating in 2010, I drove across the country to Seattle to study more and intern at Mars Hill whose designers (Patrick Mahoney and Matt Naylor) I respected a ton. I didn't go there to get into design, but it just kind of happened as I tried to "help out" from time to time. Having those guys critique my work and walk me through designs has been the best thing. I still ask for their help on a weekly basis.
I was also having to crank out an insane amount of graphic headers for all the daily web articles we put out. This helped discipline me with design and forced me to think about and research what typeface to use and how it interacted with the design. Thus began my love affair with fonts.
Finally about a year ago, I decided to pick up a copy of Glyphs (I started with the mini version and later went to the full) to tackle my first typeface just for fun. And… it sucked. But it was a start though, and I've loved making typefaces ever since.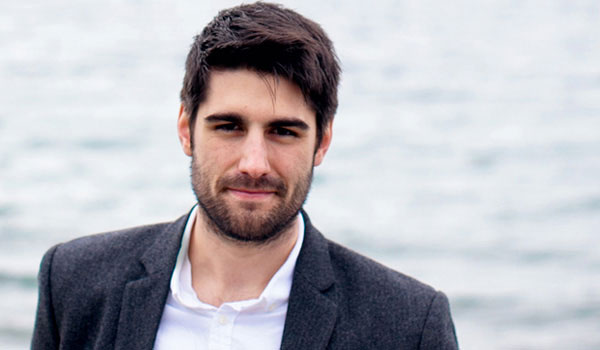 If you could change one thing about your career to date, what would it be?
Man, that's a hard one. As I've been diving more and more into type design, I see more and more how little I know. I've been able to read some books and connect with new friends in the world of type who've been super helpful in critiquing my work and bringing it to a better place. I think it'd be great though to have more programs around the country or world that have a hardcore focus on font creation. There are a couple, but it'd be awesome to see more.
So, your fonts Gin, Bourbon, Prohibition, and Abolition are all pretty similar, whilst retaining their own individual flairs. Have you attempted to build your typographic signature, or simply let it evolve on its own? In a field such as type design, how important do you thinking having a style is?
I haven't really attempted to build my own typographic signature. It's something that just seems to be happening. What I look at evolves my tastes in type which shapes future releases. I recently bought a stack of books filled with 1920-40′s travel, war, labor, and WPA posters. The copy and the type in them are ridiculous (in the best way… and sometimes the worst). Those posters and that time period are completely fueling and inspiring my style right now.
When people see the typefaces I make, they get to know me a little more. They see what letterforms and style I love. That has the potential to build trust and a relationship in some way. From that, anticipation for future releases and what's to come is hopefully formed. So in a roundabout way, yes I think having a style is important… but challenging yourself and venturing outside of what you know can also be incredibly fruitful. You don't want to be just a one-trick pony.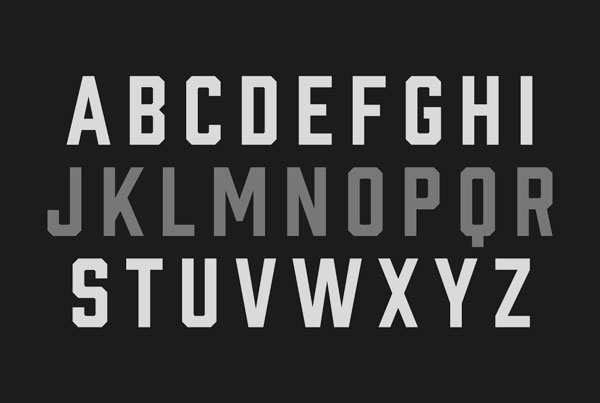 Before you started selling your fonts, you released a few for free on Dribbble. There are some pretty obvious benefits to selling fonts commercially (i.e. the revenue) but have you found that the switch to commercial fonts brought about any new challenges?
There's definitely a whole slew of challenges that come with commercial fonts, and all of them aren't necessarily a bad thing. For instance and to be honest, with the free fonts I didn't care too much about accented characters so oftentimes I just didn't do them. This seems to be the case with a number of the free fonts that I've come across.
With commercial fonts, I'm not making something that only serves me well. I want my typefaces to serve people across the world who speak different languages. It's a challenge to learn, study, and start designing accented characters that I've never used in my life.
Another challenge with commercial fonts is… you know, selling them. Unless you've created a typeface that constantly chills on top of the best seller lists (I'm looking at you Promixa Nova and Brandon Grotesque), then you've got some work ahead of you.
Laura Worthington has really helped me think through how to get the word out on and time new releases. This windows of opportunity is incredibly important as not only can new releases generate sales, but they can help introduce people to your other fonts that might be a little harder to find. Ultimately though, you could make a typeface you love, but it's just not the right time so it doesn't sell well… which is okay.
All that said, I do hope to offer a high-quality free typeface down the road as a thank you to the type / design community.
Where do you see yourself in, say, 5 or 10 years?
The world of type is continually changing at a drastic pace with app fonts, webfonts, and new designers making more typefaces every month. The game is evolving. I hope to adapt with it, but either way I love making fonts so I will keep doing that if it's by making a living or just a fun thing on the side.
A focus on display faces has consumed my time for now, but I hope to have a few text families by then (although those are a bit more arduous and time consuming). We'll also see if I'm still camping out in the 20′s–40′s era (which is definitely possible as it's filled with diverse type) or if a new time period is inspiring my taste.
Lastly, though I love Seattle and the friends I've made out here, my wife and I will most likely be back somewhere in the South to be a little closer to family as we start one of our own.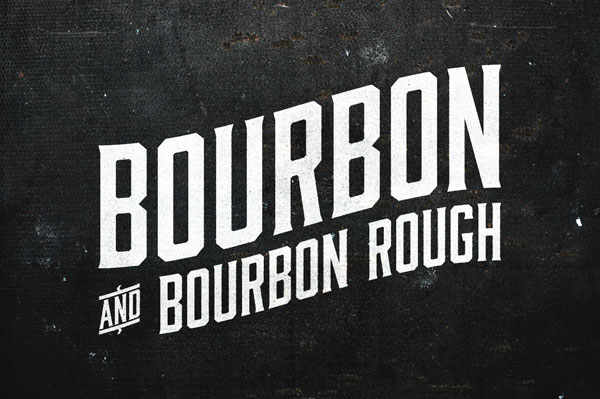 If, in some Freaky Friday-like situation, you could live the life of another designer, illustrator or creative, for a day, who would it be, and why?
Although it would be super weird to be a girl, I think Jessica Hische has some killer stuff going on. She's pretty much queen of the interwebs. She writes amazing articles, juggles a ton of different type / web projects, keeps 'em high quality, and gets to work alongside some fun clients. Yep, she's legit.
How would you define success? Do you think you've found it yet?
Great question. One of the goals I set when starting out was to get on MyFonts Rising Stars newsletter. The response to Gin's release was incredible and humbling to see as the typeface recently made an appearance there. That might sound like "success," but I don't think it is.
God is the greatest creator. I'm created in his image for him, so I get to create. Success to me is working hard and joyfully serving God in what he has laid before me. I'm not here to build my kingdom come, it's his. I often forget that and can fall into the snare of thinking that it's all about me and my work. I can then let sales or goals dictate "success" or my view of myself, which results in pride when it's going well or despair when it's going bad.
These things (sales, goals, having people know about your foundry, etc.) are not bad things, they're actually good. But when they become the ultimate thing defining success in my life, they're horrible. They turn everything into a cut-throat competition with everyone else because it's all about me.
These things are a fruit of success, but they are not success.
So yes, like a glimmer, I think see success in my life at times when I joyfully do what I love for God. Other times, I miss it and make life or work about me. It's a constant struggle and will be for the rest of my life. The good news is even though I may stray, I get to keep fighting through that and returning to God who forgives.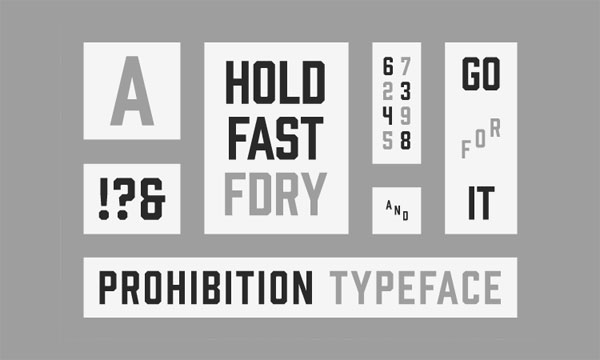 And finally, what tips would you give to anybody who is looking to get started in design?
Start with fun personal projects. Help some friends or family. Try to study with, intern for, and or work alongside someone you look up. Be humble. Know your work or critiques of your work, for that matter, don't define you. Keep a pulse on what today's designers are working on (Dribbble is a great way to do that). Work hard. Make a lot of crap that you think is good, then make some stuff that is good. Keep helping out friends and family. Most of all, just have some fun.
Thanks Mattox!
I'm really grateful to Mattox for spending a few minutes with One Minute With. Hopefully you found his responses as interesting as I did!