One

Minute

With…


Chris DeLorenzo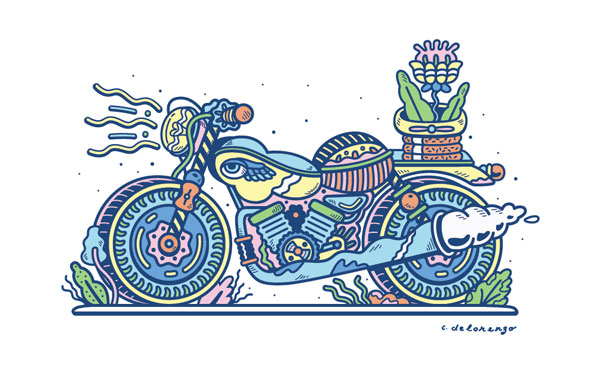 Hi Chris, thanks for taking the time to chat with One Minute With. Tell us a little bit about yourself and your work.
I am Chris DeLorenzo, I'm 26 years old, living and working in Boston as a graphic designer and illustrator. I spend my days designing fun and humorous shirts for the clothing line Johnny Cupcakes. But it doesn't stop at shirts, I design posters, flyers, web graphics (but more recently a web site), hats, sweatshirts, stickers, keychains, signage for the stores, and even the stores themselves. After hours I'm usually caught illustrating and doodling some more. My personal work is more expressive and hand-drawn – Lately, I've been very into creating characters and floral, ornate objects that are familiar but have been put through this new Chris filter. This year I really feel like I've been focused more on creating my own world – or vision – in my art than I ever have before.
How did you get into design? Was there a defining point in your career, and if so, how did it shape you as a designer?
I have always been crafty and I definitely have a good case of ADD – I knew I didn't have the patience to sit for hours at a canvas and paint a picture or be decisive and say "this is my thing" and do that for a number of years. I was attracted to design because of the freedom of projects, the turnaround time and the way that design trickled down from a set of principles and ideals rather than a medium. It was a way for me to sharpen my brain from all sides rather than just one. I was going to go into illustration as a major but my friend Aimee told me that design was the more fun major. She was pretty, so I signed up.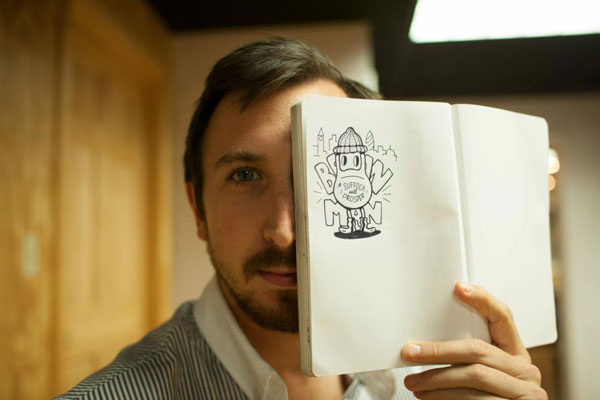 If you could change one thing about your career to date, what would it be?
I like my career so far, but I would love to change my location. I would rather be on the west coast or in Europe, haha!
Johnny Cupcakes is very definitely a brand with a personality – Does this make it harder or easier, do you feel, for you to express your own personality through your work? Do you think that putting personality into design is important, and if so, how do you go about doing that?
Putting personality into design is one of the most important things a designer can do in order to fill that void we designers all have between being an artist and being a designer. Some people are okay with just pumping out work for other people, but if you're like me, you want to put your stamp on it. If you can do a job for somebody else that also has a little touch of you in it then you've succeeded. Personality is what makes this world so interesting – If no designer fought for their work than we would live in a very banal, vanilla world. Your personality comes through in your thinking, not just your execution. People think you need to have a style, but you really need to have a lens, because that's what you're offering in the end. Here's a common scenario that has a weird and convoluted solution – There are always going to be clients that just want you to do something their way and you're going to need money, so you do the work but don't put it in your portfolio. Instead, put the version that you loved but the client didn't choose in your portfolio, so that when the next client comes around they pick you because they saw your personality, vision and style, rather than that you were just a subordinate design gun for hire. Haha, there's got to be a better way though.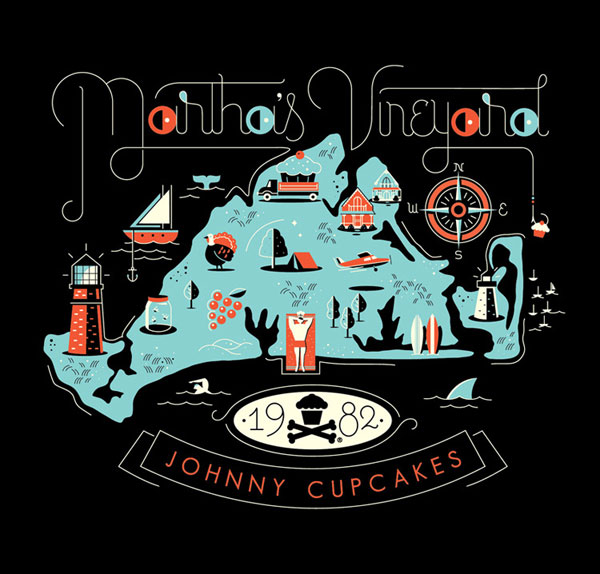 You studied graphic design at Syracuse University. In an industry that changes as rapidly as ours, do you see a formal education in design as necessary and/or beneficial?
Yes, it is definitely beneficial. The less education, the less history, the less foundation we have to build off of, the less rich design becomes. Without formal education design, becomes a very superficial, competitive community. You need to learn to take criticism, to work in groups, to understand how to think like an industrial designer or an interior designer when you're needed to. Especially at the age we enter school our minds are so malleable that it would be a shame not to put it into a thousand different scenarios and problems that it has to figure out, so by the time you're in your mid-twenties, you are very surprised by how much you know and what you can do. Exposure is one of the keys to approaching design.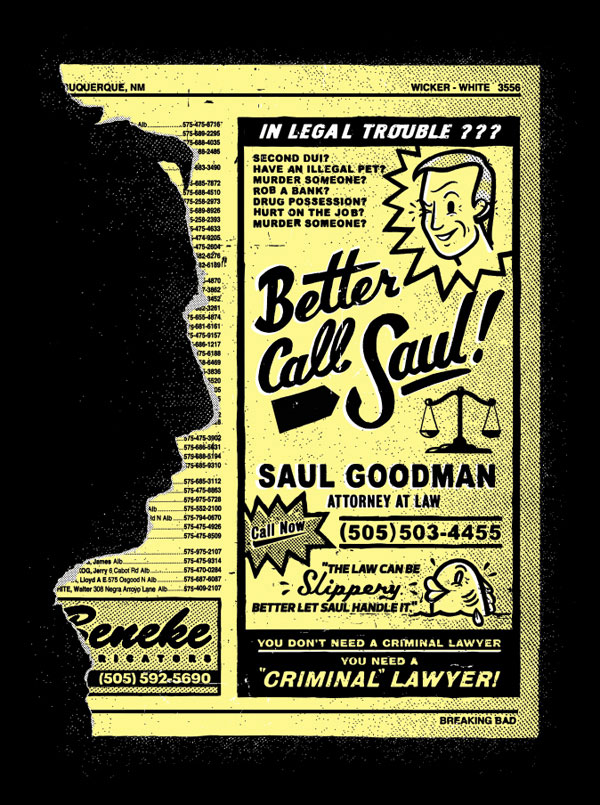 Where do you see yourself in, say, 5 or 10 years? Do you still hope to be working at Johnny Cupcakes, or do you want to have moved onto some bigger (or smaller) by then?
I hope to change cities in a few years. I want to call the world my home, not just a coastline. I hope to have a sweet beard, and some tattoos by then. But on the career side, I would love to start pushing my own drawings more, be involved in more art shows, work with bigger clients, show the world that flowers can be masculine, take all the creative people I know and never let them go. I just love working on projects with people I admire.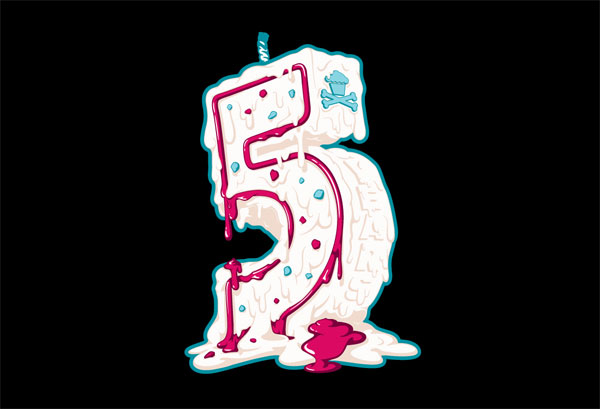 If, in some Freaky Friday-like situation, you could live the life of another designer, illustrator or creative, for a day, who would it be, and why?
I would love to live the life of Dalí for a day. He was like a Willy Wonka but respected by the culturati. I would drink wine, ride chrome bulls down spiral staircases, make a pizza out of women and skulls, and get away with puns. But if we're talking about a living person than probably Damien Hirst because I would love to know exactly just what it is he does all day.
How would you define success? Do you think you've found it yet?
Success can be defined in small and big ways. A small success these days consist of having your inbox at zero or not looking at your phone all day. On a bigger scale, success is waking up and not dreading the day. If you can do that, congratulations. No matter how much money you have or where you are in the world, if you love waking up and aren't bothered by the forthcoming tasks then you are the complete human being.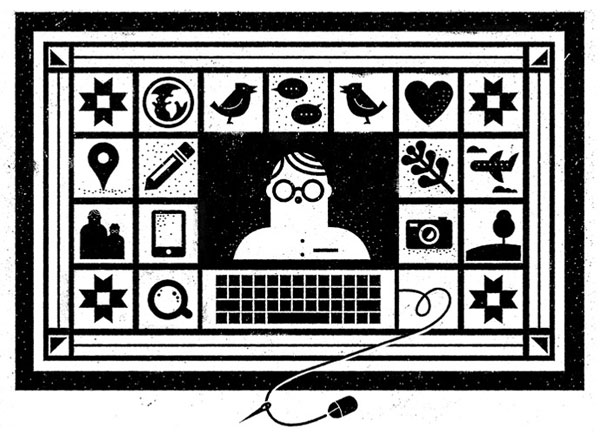 And finally, what tips would you give to anybody who is looking to get started in design?
Make friends with everybody, make connections. Be nice. Take on a lot of jobs of all different kinds at first so you can figure out which ones you really like or that you enjoy the most and then pursue those jobs more.
Thanks Chris!
Thanks so much to Chris for giving us an insight into his world! I really enjoyed talking to him, and found his answers really interesting!