One

Minute

With…


Marie Bergeron
Hi Marie, thanks for taking the time to chat with One Minute With. Tell us a little bit about yourself and your work.
Well thank you for having me, glad to be part of it!
I officially started my career a few months ago, as a freelance illustrator (mostly) & designer. I'm based in Montreal, but most of my clients are located in the States. For a Frenchie, it is most satisfying – We get the chance to grow our community outside of here in Quebec and even if the internet plays a huge part in this maybe-success, it's still a big step for someone like me.
I work digitally 100% of the time. I love to explore new tools though, which is why I think I produce different styles over and over again in my illustrations. And I usually focus on the mood, which is why experimenting will let me capture the feel I want to have in the drawing – Sometimes it'll look like closer to painting, but other times it'll look very digital. To be honest, I'm currently trying to make some space in my office to start traditional art, but this will take time… Got to be patient!
How did you get into design? Was there a defining point in your career, and if so, how did it shape you as a designer?
As far back as I remember, one thing I knew was that I was a serious fan of visual art in general. I studied cinema, publicity and communication for 5 years, but I didn't think it was enough – I wanted to go to the very base of visual art: Creating it. So, one day I was flipping through the pages of a never-ending list of career and university programs. My finger stopped at Graphic Design but it actually took me 2 years before I was able to enter the program: I had nothing to show at that time.
I studied at the Centre de Design in Montreal. It was, and still is, a great school, with over 600 people applying each year and only a few getting in. I had no idea where I was going, but I felt it was what I needed. Having a Bachelor's degree in graphic design completely changed everything: I don't regret one bit of the program. I learned so much and I think those years gave me inspiration and a strong base.
Meanwhile, I was drawing on the side, trying a few things in my spare time. I had a few contracts here and there for some small firms, which slowly but surely helped me build up some confidence in this business. With time, I discovered more about the design field, like how I suck at typography (I have mad respect for those who don't) but completely fell in love with the illustration world. I still work on branding (which I enjoy a lot too) but illustration is taking up more and more space. I'm not complaining of course – I hope it grows even bigger. It's not the end, but only the beginning.
I've got to say that everything exploded when I created my final Bachelor's project. I chose to create a book with 25 illustrations based on my top films from the last decade. I learned a lot, and this is when I found some sort of a style – Something that could work nicely with the book. This is where it all started.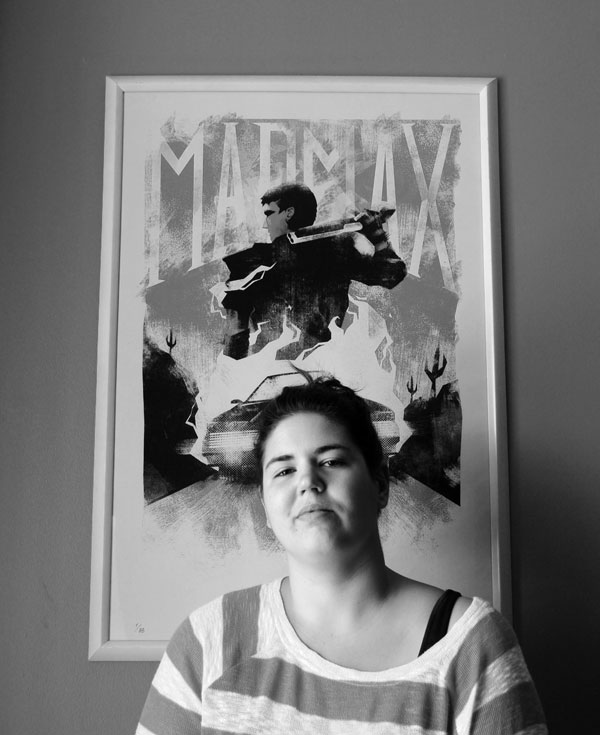 If you could change one thing about your career to date, what would it be?
Nothing. Absolutely nothing. If I refused or agreed to do something that I shouldn't have, well, it's only experience, not a regret.
On your site, you sell a load of prints of your work. In an industry where work can fluctuate so greatly, how important is a passive income source, do you feel?
Yes, you are absolutely right but it's not as important as it looks. It was mostly because people were starting to ask for a particular print that I developed the store. And there'll always be a curious new fan coming in who enjoys your previous work. I don't count on these to pay my bills, but it is very satisfying at first when someone buys a print and hangs it on their wall. You know that somewhere, you made someone happy, which is the best part.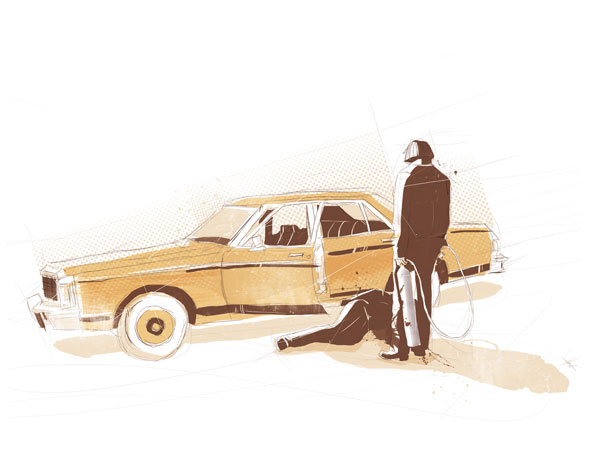 You've done a load of film illustrations, most of which are more representative of the film that the film's artwork itself. What do you think of the current state of film art?
Good question. Regarding film art like posters and such, Mondo takes the lead with a few great names out there. But nowadays, a thousand or more want to do the same thing – Our work could easily get lost in this noise, there is too much going on. The fanbase you build is there to support you and helps so much. If you're lucky and work hard, it will only grow and you'll be able to pass this noise field. I'm still really far from the top – Still a lot to do!
It seems like galleries want to be part of this huge community too. In a week, you can have 4 shows going on just in one city, all about films. It is nice to see that happening but I think it's becoming too loose: Now, it seems that if you're capable of doing some sort of a movie poster in Illustrator, you're automatically in. Exposure should be chosen more carefully – but then again, I've had my chance, why shouldn't others? I won't be the one judging if your work is worthy or not.
Something else is also going on, on the very top of it all: Those big Hollywood studios are starting to go with freelancers to conceptualize movie posters. Just starting though. Personally, however, I'm not a huge fan of creating movie posters – I prefer working on a particular scene or an actor's emotion, for example.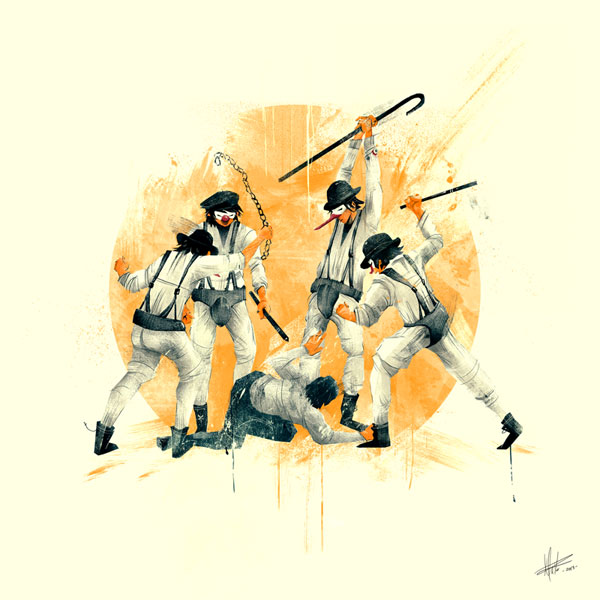 On that subject, if you could have done the artwork and "branding" for any film in the past, which would you choose, and how would you have done it differently?
I have no idea! I guess a lot of movies. But differently? None that I can think of. The films that I would have loved to work on are mostly the films I enjoy visually, so why change anything? Tarantino's films are probably the ones that most artists dream of working on. When well-executed, credits are something that I enjoy a lot – I might try something like that later on.
I actually did sell a print to Paramount for an upcoming summer film. It won't be the official poster or whatever, just part of some third act marketing stuff, if they choose to use it. But just the fact that it reached someone there makes me so happy, and curious to see what it will change for me in the near future.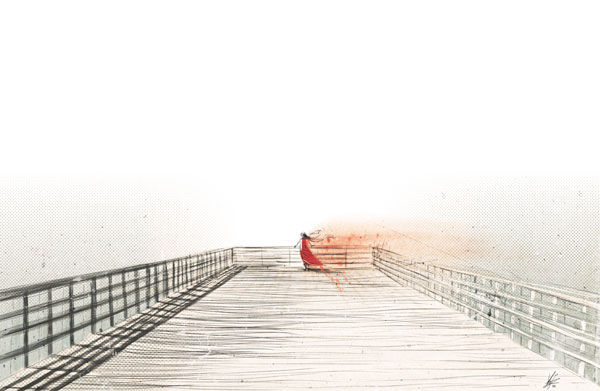 If, in some Freaky Friday-like situation, you could live the life of another designer, illustrator or creative, for a day, who would it be, and why?
Sagmeister for his general remarkable thoughts on design. Olly Moss for working with great film studios. Banksy for his love of art, and great conceptual ideas. Sam Spratt for his skills.
How would you define success? Do you think you've found it yet?
Success is when you are able to live a decent life with what you enjoy creating. When people want your work more than anyone else's. When you are respected by most artists. When you are happy in what you do.
No, of course I'm not successful: Success is far, far away. Like I said, I hope everything that I'm doing right now is only the beginning of something even bigger. I know it is. I'm still in my "let's experiment" days more than anything else.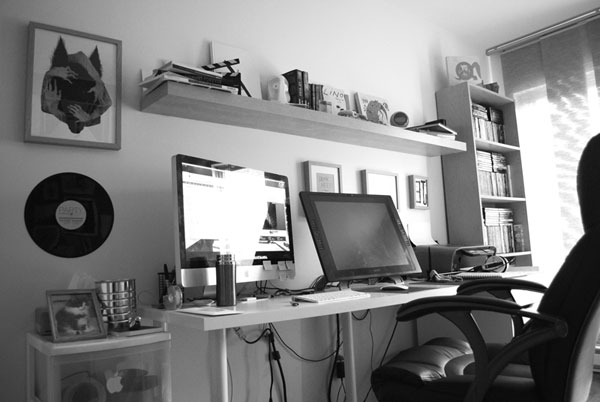 And finally, what tips would you give to anybody who is looking to get started in design?
Work hard, try hard. Do what you enjoy the most, don't worry about the failure – Just concentrate on getting better. Be patient and don't give up!
Thanks Marie!
Many thanks to Marie for taking some time to talk to One Minute With. I really enjoyed interviewing her, and hopefully you enjoyed reading it!
Why not check out Marie's site, and follow her on Dribbble and Twitter?