One

Minute

With…


Steve Simpson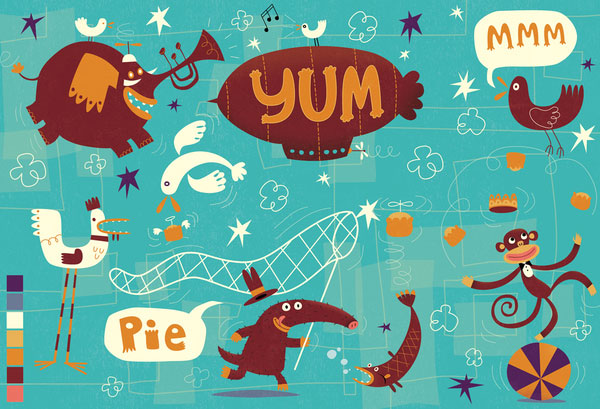 Hi Steve, thanks for taking the time to chat with One Minute With. Tell us a little bit about yourself and your work.
I'm originally from Manchester but have been working in Ireland for the last 22 years. I have a background in animation (Danger Mouse & Ninja Turtles) & British comics (The Beano). I studied technical illustration in Portsmouth in the days of Grant Enlargers, Letraset and Cow Gum. For the last 20 years I've been working as an illustrator for ad & design agencies, locally and internationally. I also work as a children's book illustrator.
How did you get into illustration? Was there a defining point in your career, and if so, how did it shape you as a illustrator?
I guess I've always wanted to draw for a living. My uncle, John Geering, was a UK comic artist on The Beano and The Dandy, so I grew up knowing there were real alternatives to working in factories and offices. When I was 15, he gave me a summer's internship helping out with blocking-in the solid blacks, Rotring pen borders and inking the occasional suburban horizon on his strips. At the time I really wanted to be a comic artist, which I did for a while, but eventually I moved into illustration. Along the way I also worked in animation on Danger Mouse and in Ireland on Ninja Turtles.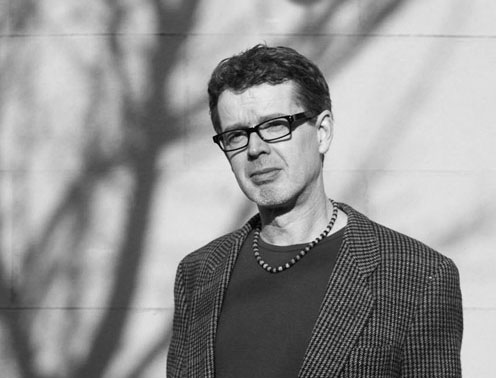 If you could change one thing about your career to date, what would it be?
I'm actually very happy with how my career is shaping up. It's a little like Michael J. Fox in Back to the Future, I wouldn't want to change anything in case it had a knock-on effect and illustrations started slowly fading from my portfolio:) In the future I hope to find time to venture into more fine arty type stuff… get my hands dirty :)
Throughout your career, you've won all kinds of awards from all kinds of places. How beneficial have you found these accolades? What are your opinions on awards like these given out in the industry?
Initially, the reason for entering the awards was to give art directors a little more ammunition when trying to convince clients to go the illustration route. This was something I was finding increasingly frustrating. Often clients like to play it safe by going with the tried and tested photographic solution. I thought, and still believe, that a client has a little more confidence in going down the illustration route if you can add 'award-winning' in front of 'illustrator'. A second, and perhaps more measurable, advantage of winning awards is getting into the award book. This, I've found, is often used as a source book by international clients and has led to some very interesting projects.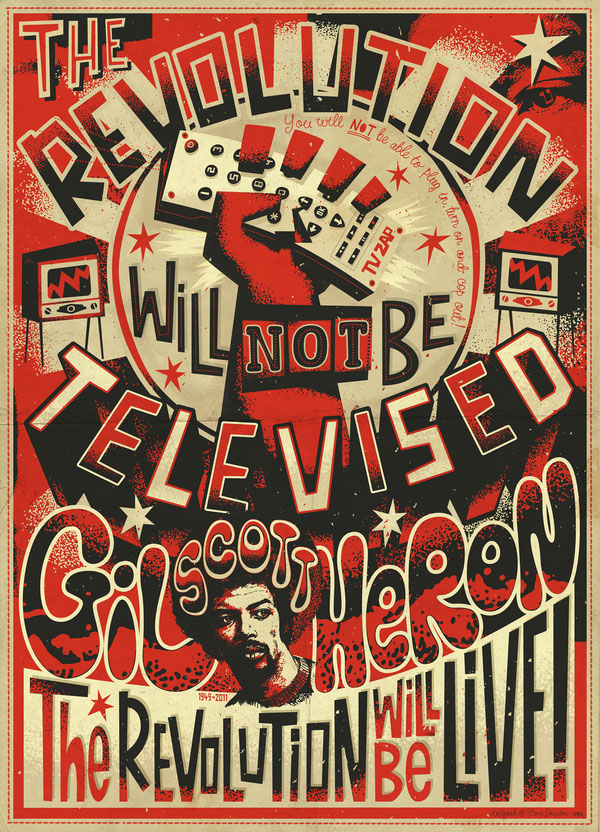 Along with actually designing and illustrating, you've also given several talks on design. Do you feel a need to contribute back to the community that fostered you? Outside of simply getting your name out, does speaking on design improve your skills in any way?
Giving talks was actually very scary at first, still a little daunting. It does a couple of things: I do think it's important to give back, I've had a lot of help along the way and if I can help by giving tips to those trying to break into the industry then it makes me happy. Another thing: like most illustrators we spend most of the time in our little caves with pencils and computers, communicating to the outside world through drawing & social media. So it's great to meet like-minded people in the industry and by actually vocalising my experiences it helps me formulate my own thoughts and processes.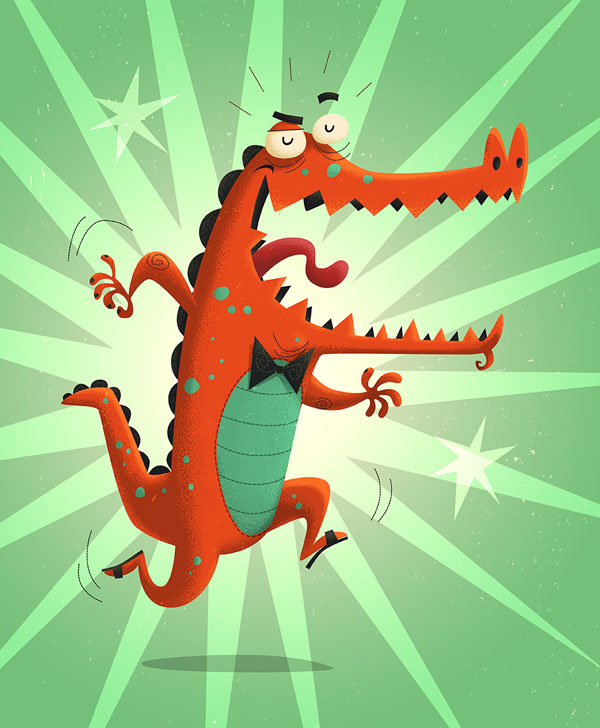 You do quite a bit of illustration for childen's books – Does the process for this differ in any way to other illustration? Which do you prefer, and why?
Had to think about this one a bit. At the moment, I like the balance of ad/design and children's books. They both serve different creative needs. I love the deadlines and problem solving of the more commercial work, but the longer deadlines and more personal output of the children's books allows me to experiment more. I'd feel lost without either one of them :)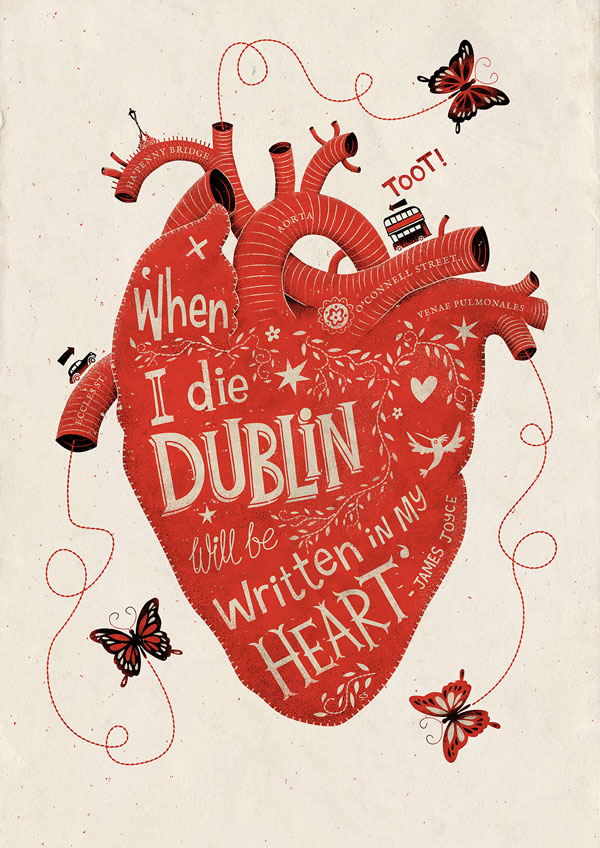 If, in some Freaky Friday-like situation, you could live the life of another designer, illustrator or creative, for a day, who would it be, and why?
Gary Baseman seems to have far too much fun traveling the world giving talks and putting on shows. That would certainly be fun. I like the Chris Haughton's 'better world' perspective. Always impressed with the way he mixes charity work for Africa and phenomenal children's books. And maybe the boundless energy of Niamh Sharkey. So many projects, producing animation series for Disney, writing and illustrating wonderful children's books and her demanding role and as Ireland's Children's Laureate. A think it would be a very Freaky Friday situation to have a mix of all three:)
How would you define success? Do you think you've found it yet?
Who knows, not sure where the success scale is and how to go about measuring myself against it. I'd like to think year on year I'm getting better and better. I've had an incredible year; the talk at OFFSET in front of 1,700 people was amazing, I had my first solo show at The Copper House Gallery in Dublin and I been involved in so many fantastic projects with great clients. I also picked up a few nice awards. Can't wait for 2013…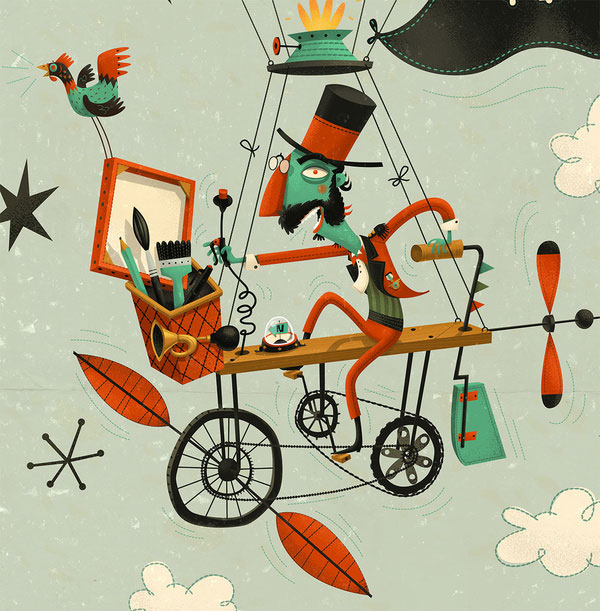 And finally, what tips would you give to anybody who is looking to get started in design or illustration?
My best tip is not to be afraid of making mistakes. You'll learn so much more by getting things wrong than by accidentally getting something right. Embrace chance, luck and opportunity when they happen, because they will happen, you just need to be able to recognise them.
Thanks Steve!
Thanks a million to Steve for sharing his thoughts! I really enjoyed talking to him, and found his answers really interesting!