One

Minute

With…


Jacqui Oakley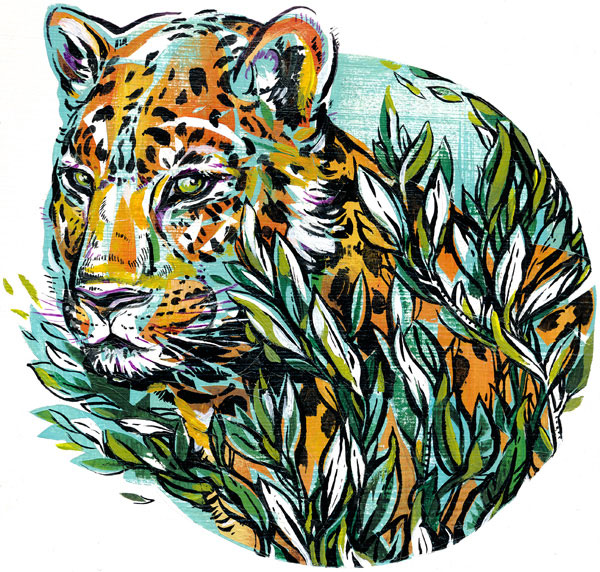 Hi Jacqui, thanks for taking time to chat with One Minute With. Tell us a little bit about yourself and your work.
I'm an illustrator based out of Hamilton, Ontario, Canada which is a city just outside of Toronto renown for its steel factories and donut shops. I was born here in Canada, but soon after was whisked away by my British family, growing up in England, Libya, Zambia, Bahrain and then back to Canada as a teenager. That was quite the culture shock at the time, but by now I'm nearly used to Canadians (except for the whole hockey thing).
I've been doing freelance illustration for about 10 years and I also teach part time at the Ontario College of Art and Design in Toronto. The bulk of my work has been in magazines, but lately I've been working more in book publishing and advertising and doing more hand-lettering too. Some of my clients include Sony, Rolling Stone, AOL, LA Weekly, The Boston Globe, The Financial Times & ESPN.
When I can I like to work on personal work for art shows. I've been exhibited in Toronto, L.A., San Francisco, Philadelphia, San Diego and Shanghai. Lately I've really been interested in doing bigger paintings and collaborating with other artists I admire, so I've been trying to do more group shows. Any excuse to paint and to travel somewhere new is welcome.
Walk us through a typical day in the life of Jacqui Oakley.
I stumble out of bed around 9:30 and with coffee in hand get to tackling my email inbox. I'll then usually move onto either working on final illustrations or linears (rough pencil drawings) for clients. Illustration work tends to move really fast with the deadlines often being just a few days from start to finish, so there's usually always something to keep me busy with. If no jobs are in there's always business/admin work to catch up on; invoicing, contracts and promoting. Of course when I'm teaching I'm also coming up with new projects and marking students' work. I tend to break for lunch around noon where I luckily get to catch up with what my husband's been working on and try to wind down with a bit of a TV show, (lately it's been The Wire or Twin Peaks). He's a graphic designer at Poly http://polystudio.ca/ who works from home too. Since we tend to work a lot it's great that we're just across the hall from each other in our respective studios, so we can be a part of each other's workdays, offering a fine balance of encouragement and criticism. It helps so much to have someone to bounce ideas off of or to get out the frustrations of some of the more difficult clients. Of course most of our clients are gems. As most freelancers know, evenings tend to be a time for work too, or at very least taking time to switch over to doing paintings for shows.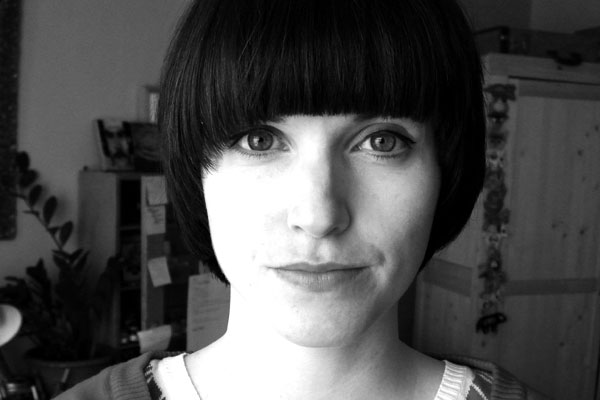 How did you get into illustration? Was there a defining point in your career, and if so, how did it shape you as an illustrator?
I got into illustration quite by accident. I always loved art when I was a kid but never knew quite what to do. I remember my friends wanting to be actresses or singers and I always felt like I was the odd one out. So later, after high-school, I randomly enrolled in an art degree program but found it wasn't challenging me enough. I wanted and needed feedback and criticism to get off my ass and become a better artist. I visited my friend at Sheridan College's illustration program in Oakville, (just outside of Toronto), and I was blown away by the talent there and the focus on learning classic skills such as life drawing. The next year I switched over and was gripped with the idea of being an illustrator.
With illustration I enjoy the fact that that I'm not just accountable to myself and my own whims. I need to communicate to a wider audience and I get to inject art and ideas into the lives of an average person rather than solely focusing the smaller realm of art galleries. Illustration is a great opportunity to participate in a larger discussion. Also, day to day my projects are constantly changing so there's little room for boredom. You're given a problem and you have to figure out how to solve it visually and conceptually rather quickly. This sometimes pushes your work in unexpected and interesting directions you might not have come up with yourself. I always love the idea of the 'black-box" contest: here are a few specific elements – lets see how you'd add your voice to the mix. Illustration is constantly like that, which is sometimes frustrating but often inspiring.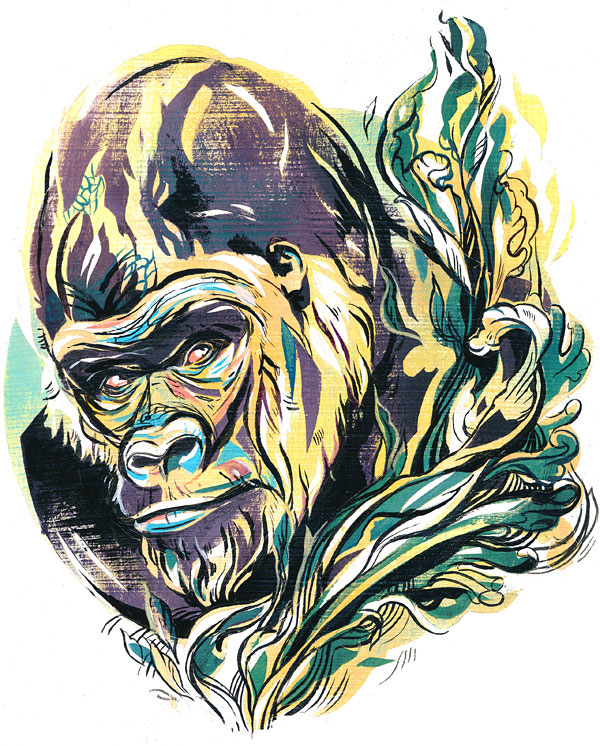 How do you approach a new project? What's your creative process like?
After accepting a job from a client, and having received the pertinent project information (article, brief, etc.) I start off brainstorming with words and small doodles of random ideas that come to mind, then maybe collecting a bunch of reference images, before then moving onto roughs and linears. I tend to start going through folders on my computer and go online searching out imagery and inspiration that can get me excited and open up the possibilities of a project. This can be vintage illustration, design, textile patterns, vintage poster design, etc. With each job I try to add something that I'm excited by at the moment whether it's a colour scheme, a new line technique or a new concept which will always show in the final illustration. Not all jobs are the most thrilling so it's up to you as an illustrator to find your entry point into the solution.
Once a linear is approved, sometimes after some revisions, I blow it up to the size I'm going to work with and transfer it onto paper. I used to work in oils, but these days I usually block out a few areas in acrylic paint, sometimes with Frisket film, trying to keep it loose and get some texture in there with dry brush. Then I go onto inking lines, and then maybe a few spots of colour again in acrylic or coloured ink. Sometimes, especially for smaller spot illustrations, I'll ink the lines by hand, then scan and add the colour digitally. At the end I'll place the image up on my server and send the client a link to pick it up.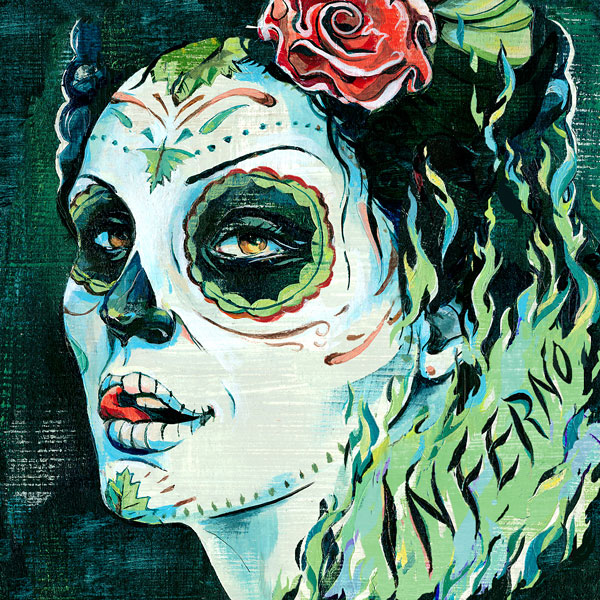 You're best known for your vivid, organic illustrations with awesome textures. Was it a conscious decision to find a style you liked and stick to it, or did it simply end up that way? How has your style developed over time?
Thank-you! 'Style' is really just a constant evolution to find what feels right to you and will keep you excited and involved. I'm constantly looking at design and imagery that I can bring into the mix. Early in my career I started off being excited by ornate imagery and the detail in Art Nouveau work and the collaged textured work of artists like Kurt Schwitters and Robert Rauschenberg. I also really like work or furniture that has an aged worn feel to – I don't tend to like work that feels too clean and glossy. I'm also really inspired by vintage illustrators and comic book artists and the design in vintage posters and ephemera. So, really with my work it's finding a balance between detail, and graphic design while trying to keep a loose hand-rendered feel. Hopefully it's a path that keep me excited throughout my career.
I find the larger the pot of work you're inspired by the more unique your work will be and the more you'll have figured out what feels like 'you'. Over years and listening to other people's feedback, you figure out where your talents lie and what aspects of your work resonate the most with others, and then hopefully you build on those and work on the things you're a bit more unsure of. Also, a 'style' isn't only figuring out what imagery gets you excited but also what compliments how your solve problems conceptually. As long as you stay interested in art and design, those inspirations will seep into your work and your work will evolve naturally into something you're excited by and something that plays on your strengths.
As a young illustrator it's really easy to get overwhelmed by the incredible amount and variety of work out there. It's hard to know exactly which route you should go and also what's going to earn you a living. You do need to be inspired by what's going on around you but you don't want a 'style' that's already been done or that'll be shortly outdated. As long as you figure out and keep working on your talents and keep evolving and stay interested, you'll find out what works for you. Illustration is always a balance between the personal and the collective. You want to have work that feels unique to you and stands apart from the crowd, but it still has to communicate something to the masses. It's an interesting situation to play with.
Most of your work is done with brushes, paints and inks. At a time when both design and illustration have gone almost entirely digital, how important is it to you to keep alive the older, more handcrafted traditions of the past?
I don't reality feel like it's my job to keep alive the older traditions, I just tend to be more excited by the techniques of older artists and try my best to come close to their talent. I also just enjoy working by hand and the spontaneity that comes with it. When I'm painting and inking I feel so much more physically involved with the work and I am able to better connect to what I'm doing and solve problems better. I also like the possibility of 'happy accidents' that can lead you off into an unexpected direction. That's not to say I don't admire digital work. There are a ton of illustrators, some who are close friends, who do the most amazing work all on the computer. For me, I just always revert to liking the feel of paint on paper.
If, in some Freaky Friday-like situation, you could live the life of another designer, illustrator or creative, for a day, who would it be, and why?
Ha! Good question. I'd love to switch up with someone who has a totally different career and a different creative take. Since my job is such a solo occupation it would be interesting to see how a group of talented creative folk collaborate on something so big and multi-faceted like a film. Maybe I'd choose to investigate the partnership between the director Jim Jarmusch or Wong Kar Wai and the incredible cinematographer Christopher Doyle. Or, if I am brave enough to see what's going on inside his head maybe my pick would be the director Alejandro Jodorowsky. He comes up with the most surreal and unique imagery in his films but has also collaborated with amazing creative people. In the original and unmade version of the film Dune he brought together such a super-team of creatives including Dan O'Bannon, Jean Giraud (Moebius), Salvador Dali, Orson Welles, and even music by Stockhausen and Pink Floyd. Thank God there's finally a documentary coming out about this.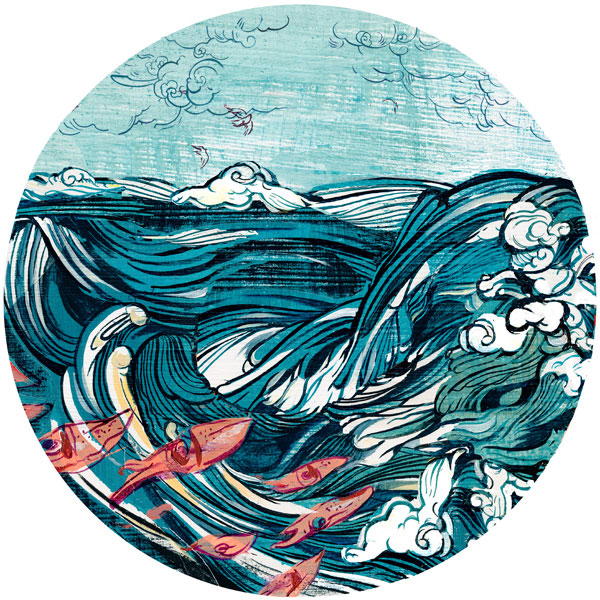 What design tools could you not live without?
I've been working reality long hours lately and since I'm tethered to my desk without much company I do like to have a good audio book on to keep me company, preferable a long-winded fantasy or vintage science fiction or horror book. I think it's my hope that anything with fanatical imagery and descriptions will seep into my work. Also, I'm an avid podcast listener. Other than that even though I work mostly by hand I need Photoshop to scan my work and tweak it here and there. I also use it tons for moving around elements in the linear stage. The rest of my tools would just be ink, paint, the occasional piece of Frisket film a new crisp detail brush and a nice cup of tea.
And finally, what tips would you give to anybody who is looking to get started in illustration?
It's tough at first going out on your own. Remember that everyone has had really slow times. Just keep promoting yourself and doing good work that feels right to you and it'll pay off. It's a bit obvious, but don't forget that you enjoy art & design. Sometimes when art becomes a daily routine it can seem like a chore. So try to remember to work on personal projects when you can, collaborate with friends, continue looking at things to keep getting excited and add to the vocabulary of your work. It'll come through in the end.
On more thing: as an illustrator the fact that your job is so tied to your personal interests is both a blessing and a curse. It's hard to separate your personal life from your professional life especially when you work from home. You want to put in long hours since you enjoy what you do, and sometimes you need to due to tight deadlines. So trying to maintain some semblance of a schedule is key. On the other end of things, you get to draw for a living and collaborate with interesting creative people, which is pretty amazing. You're part of a long line of illustrators that have commented on and even changed society which is pretty incredible to be part of.
Thanks Jacqui!
Many thanks to Jacqui for taking some time to talk to One Minute With. I really enjoyed interviewing her, and hopefully you enjoyed reading it!
Why not check out Jacqui's site, and follow her on Dribbble and Twitter?